Custom Search
Review: ORIENT x STI 2011 Limited Eition
Orient x STi 2011 Limited Edition, a review by Arnold Z. Cruz
There have been a lot of speculation at what Orient will bring out in 2011 to commmorate their victory in the NBR Challenge 2011. Having an Orient M-Force attached to the dashboard was more of a test of the watch rather than a hint at what's in store. After months of waiting, Orient finally announced their line-up for 2011.
I called up my favorite dealer and even though it's too early to assume that they will have a stock, nothing is wrong in asking as they're the ones who informed me of a coming "STi III" way, way back, even before Orient has any information on their website. As expected, they don't have it (yet) but nevertheless, I indicated my interest for the steel bracelet version.
It happened so fast... I posted the watch in our discussion group at Facebook right after I posted it at Philippine Watch Club forum, and the following day three watches are available straight from Japan! As friend Raffy David would say... Gunnnnnnit! And yesterday, I have mine in my hands.
While Orient classifies the watch as limited edition, having 5,000 pieces (2,500 in steel band and 2,500 in leather) is five time more than the Orient x STi 2010 Limited Edition which is just 1,000 pieces worldwide. Having the 1223/2500 stamped at the caseback does not excite me.
So lets' start from the specifications, grabbed from the Orient website-
Analogue Quartz Movement : caliber KFB00
Chronograph in 1/20 second
Chronograph hands (second & 1/20 second)
Small second hand
Date indicator
Stainless steel case
Stainless steel bracelet or Genuine leather strap
Crystal glass
Screw caseback
Water resistant to 50m
Diameter 42.00mm
Thickness 9.05mm
Yeah right, Quartz. While I do not despise such movement, as I own Eco-drive watches and Bulova (Miyota), there is a hint on my brand preference. If you did not get it, it is spelled C-I-T-I-Z-E-N. So having a quartz module not coming from the Citizen Watch Company is going to have an "acceptance" phase.
Packaging
It came in double box containing the pillow, warranty card, and really big manual folded into a pack smaller than a matchstick case. There is a supplemental 2012 calendar, and wiping cloth.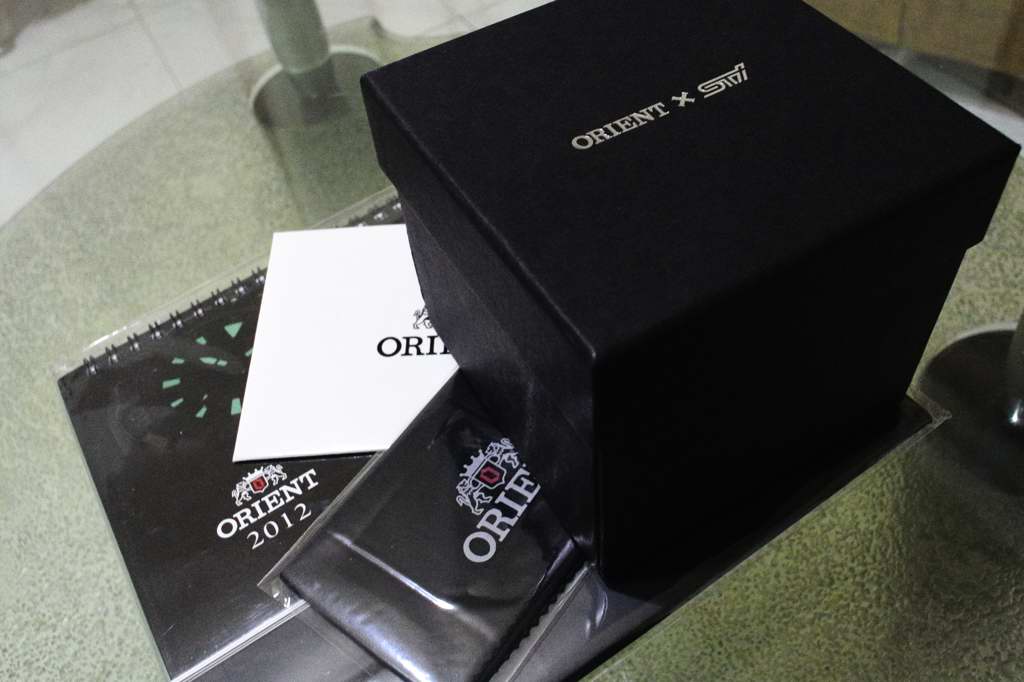 Packaging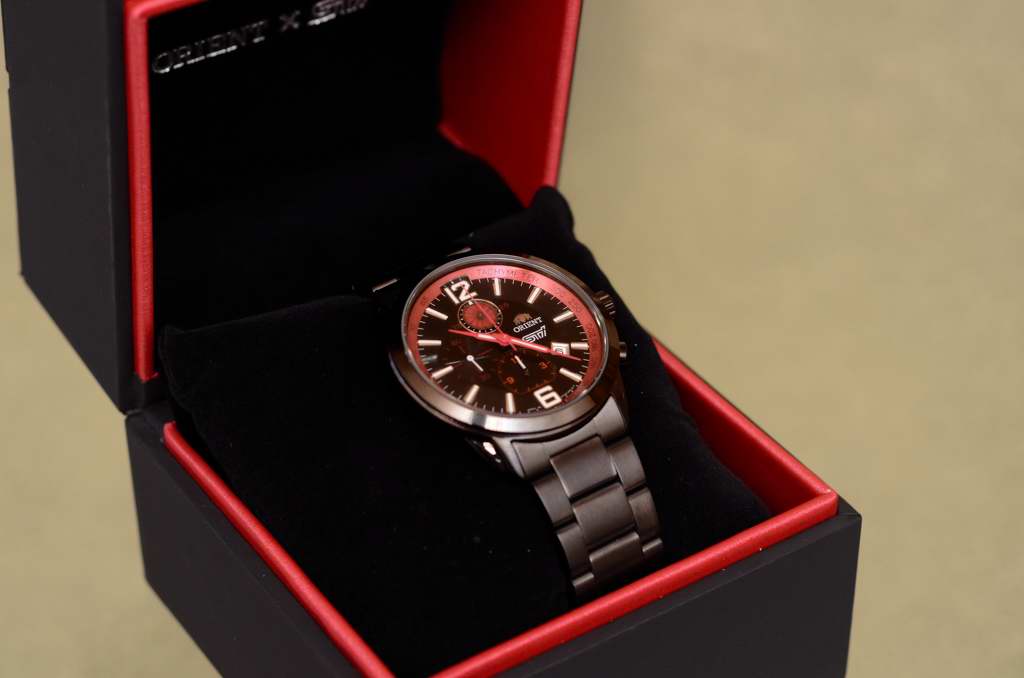 Aesthetics
It's a bitch to photograph, or I'm a poor photographer. Either way, even the Orient website did not show identical images and must have been post-processed. In my eyes, the color combination is an acquired taste. I know that Orient wanted it to represent the theme of an STi car, so how did they score? Having a gunmetal-grey finish reminds me of the STi wheels I cannot afford to buy for my car. So that's positive. Then the STi "pink"... I don't know if the color is exactly right for something this small, and knowing Subaru has some misfortunes on their paint supplier, reminds me of that. It may not be the "best" color combination, but adhering to the theme is acceptable.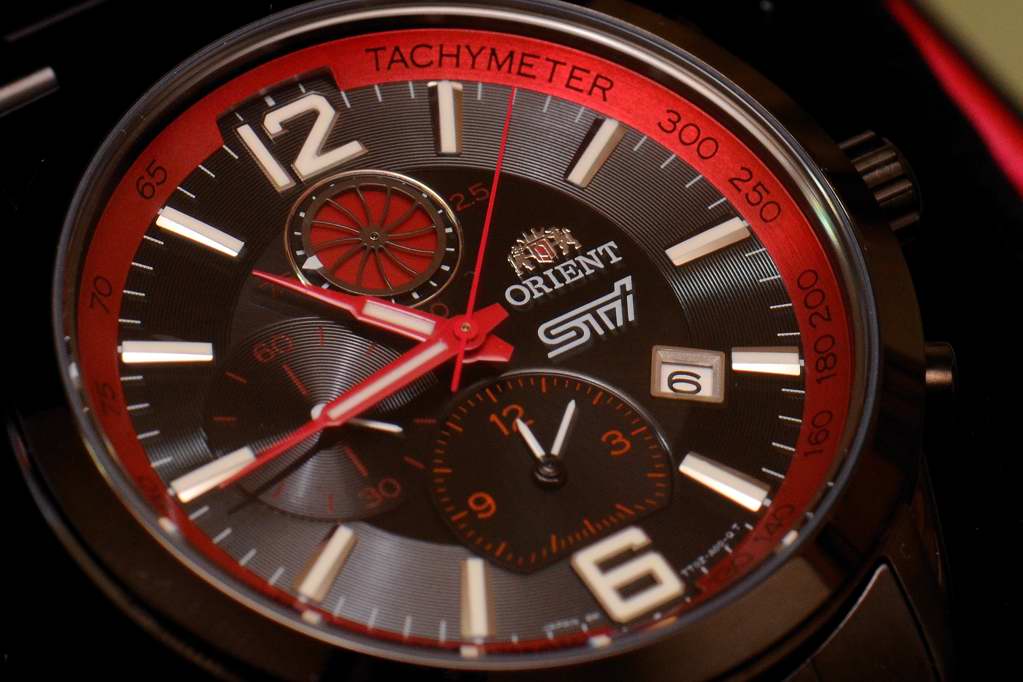 Dial
It has an inner Tachymeter scale, which is fixed. The hour markers are basically stick with the exception of 6 and 12 o'clock markers in arabic. The dial that looks like Toblerone in color, is adorned with concentric circles on the outer edge and each register has its own design. The 1/20 stopwatch second register has a dial instead of a hand. The design of the dial again reminds me of the wheel. The normal seconds register is also adorned with concentric circles, just like my Tudor 79180. Finally, the hour/minute stopwatch register looks like a meter on the dash of the car. I have to mention that the post-processed image on the Orient website that shows the indicator numbers and indexes in a shade of orange, is just that- post-processed.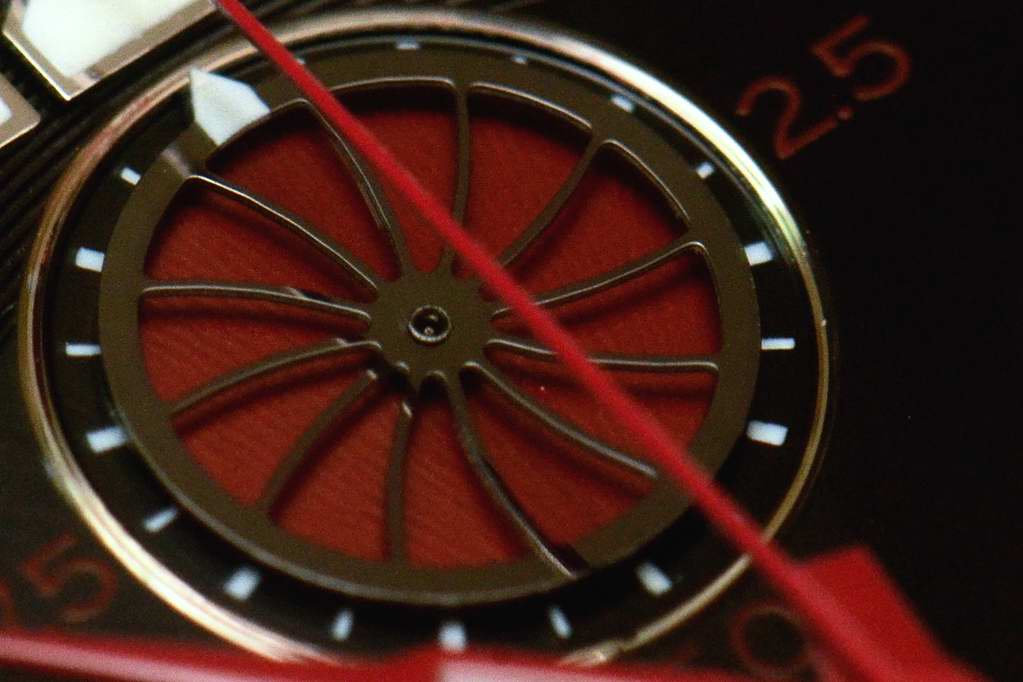 1/20th second stopwatch register with "wheel"
Seconds register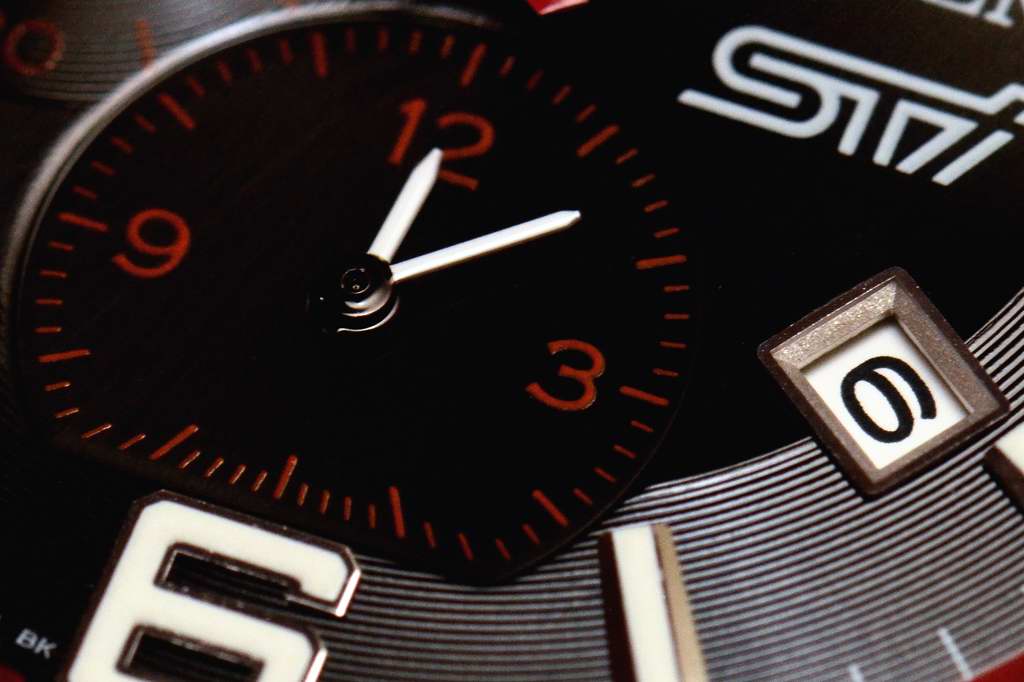 Hour and minute stopwatch register
There are seven hands! Well, technically the 1/20th second indicator is still a hand. There's a date window, and of course a date wheel to show the date in black letters and white background.
Build quality
Unlike the 2010 Limited Edition, this one is light. This is the lightest quartz watch I have.
If you own the ER00 diver's watch and complained about the steel bracelet, then you'd have the same complaint on this watch. Although the finish is also gunmetal-grey, it is exactly the same bracelet, but with a different clasp.
Caseback
The caseback is the only part that remains in polished stainless steel (and add to that the springbars, none of which is in gunmetal-grey).
Over-all, the build quality is good, but nothing spectacular.
Wear and feel
Now for the most important part, how does it wear? It wears smaller than its size, and definitely does not feel like having an STi wheel on your hand. It's light enough that it is comfortable, but still reminds you there's something on your wrist. Does it look good? I'd say it is unique in its offering, and somewhat blends with my dark skin.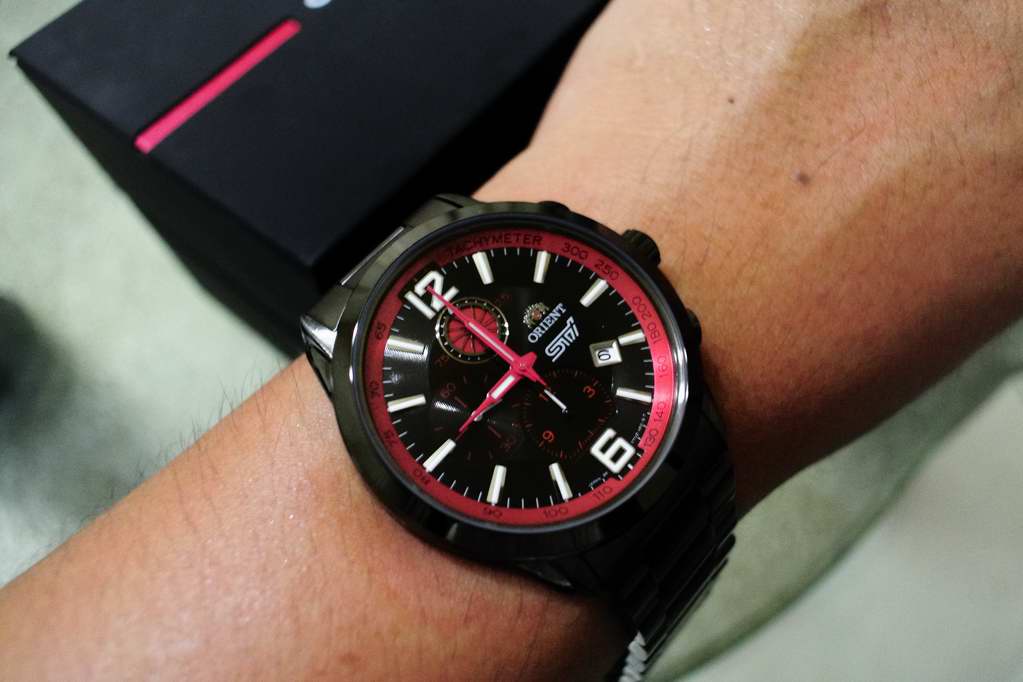 Wrist shot
Complications
One highlight of the watch movement is the capability to measure up to 1/20th of a second, while nothing new for quartz movements, it is a nice feature nevertheless, whether I can put it in actual use. In addition, it has the capability to measure intervals, as well as split-times. You have to read the tiny 1" x 2" (or less) manual that you have to spread open to a size that will cover a small table.
Finally, you have the usual hour, minute, seconds and date indicators.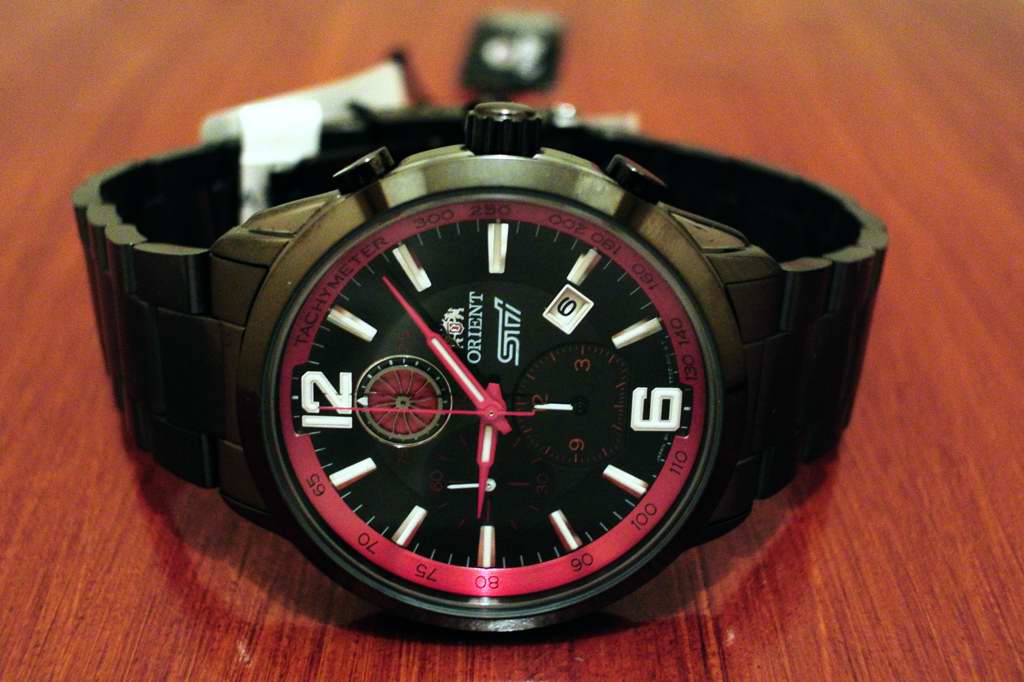 Front view
Conclusion
Definitely not the watch for everyone, but if you're a Subaru fanboy (or girl) the Orient x STi 2011 Limited Edition is something you should consider wearing.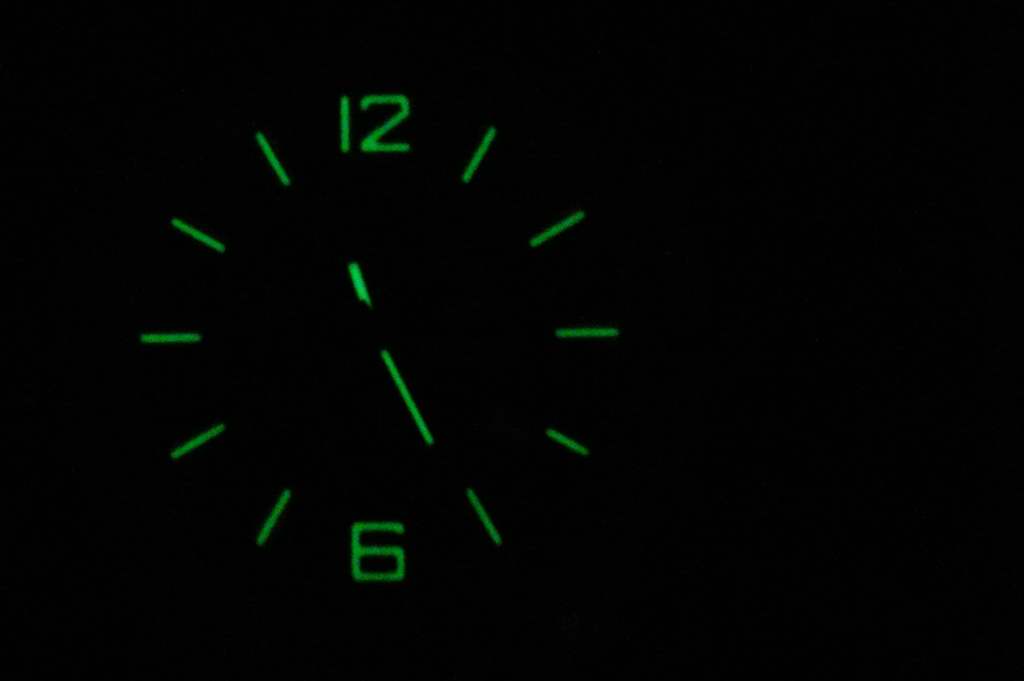 Lume shot
Here's a video of the chronograph operation.