Custom Search
Frankentable
This turntable was put up using excess parts that I have left over from previous upgrades.
The platter and bearing came from my Clearaudio Champion. These were the original platter and bearing before the upgrade to 70mm platter and ceramic-magnetic bearing.
The plinth is a ply of wood from a junked executive table. I used a jigsaw to make an easy cut up to the proper size. The acrylic cone feet also camefrom my Champion.
To turn the platter, I used a floppy drive motor made by Sony. It was rigged to just turn on when power is applied. The belt is from Scheu, that was given to me by a friend. The pulley was fabricated from aluminum by another friend.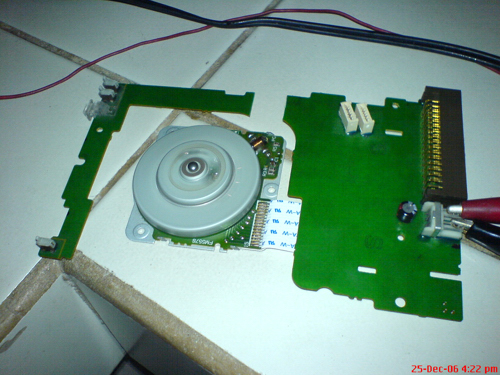 Initially, an Eminent Technologies 2.0 tonearm air-bearing, linear-tracking tone arm was used. The cartridge is a Clearaudio Aurum Alpha Wood.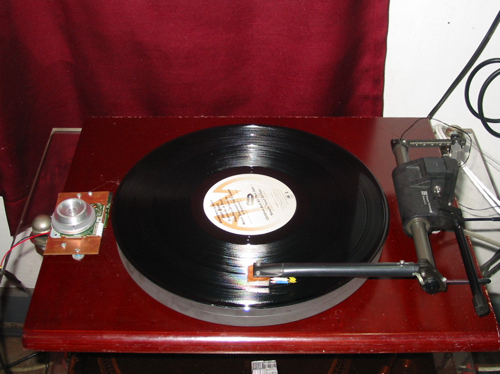 In 2007, I was invited to participate in the annual November Hi-Fi Show at the Mandarin Oriental. To fix the cosmetics of the plinth, I painted it gold with a spray paint can. Here's the setup at the show.
The other gears featured here are the VSPS phono pre-amplifier, with the AK-200 pre-amp, and a type-26 pre-amp at the bottom shelf.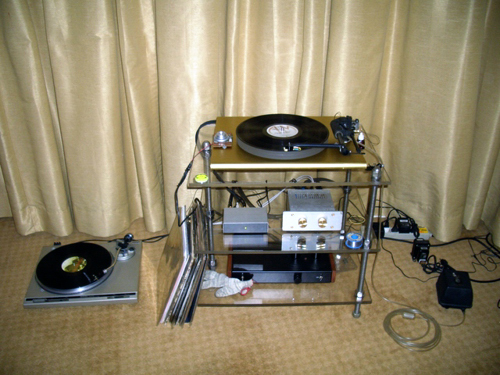 An opportunity came knocking to me and I acquired a Graham 2.2 Ceramic pivot-type tone arm, so I sold the Eminent Technologies tonearm. Here it is now, in its latest incarnation with a Clearaudio Talisman mounted on the Graham.