Photography, my other hobby
As a kid, I always like to look at photos, and I found myself browsing thru the photography magazines of my uncle Greg, who was taking architecture at that time. While I do have interest, it never really became a hobby as I'm mostly interested with audio electronics, the reason for this website.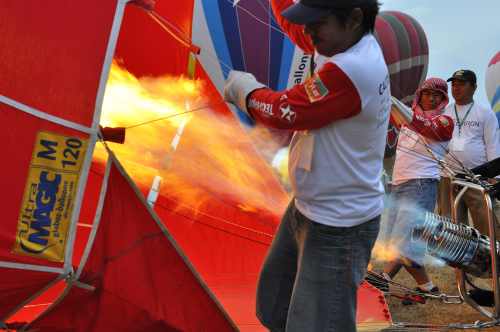 Finalist photo at the 2009 Caltex/Digital Photographer Philippines Photo Contest
Theme: Human Energy
The first camera I truly owned was an Olympus µ[mju:]ZOOM 70, a film camera that I bought in Singapore decades ago. It lasted many years until it developed a problem where photos became washed-out, which led me to my first digital camera, the Canon A40. I bought this locally at Mayer's Photo in Carlos Palanca (the area is generally referred to as Hidalgo) and served me quite well.
I've used the Canon A40 mostly when attending Il Ponticello's invitation for Miss Earth events, and if I don't forget it when I travel.
The advancement in mobile phones and camera integration caused the Canon A40 to be sidelined. I found satisfaction in using my Sony Ericsson K750i, which is still working very well as this is being written. However, an upgrade to the Sony Ericsson K810i allowed me to take better pictures. Some of the photos you'll find in this website was taken using my camera phones.
In February 2008, I decided it's time for me to buy a DSLR, and while I'm fond of the Canon brand due to personal experience and my cousin owning a Digital Rebel, I took the plunge with Nikon's D40. I have to admit that Ken Rockwell's web site has great influence on my decision to still go with the D40 rather than the D60.
In my course of searching for lenses that would work for me, I was able to compile some random tests to serve as my reference in the future.
I have been making comparisons of my Tamron lenses and their Nikkor counterpart. I am slowly compiling a list here.
Reviews
Gear list
SLR I currently own:
Mirror-less system I currently own:
DSLR I owned in the past:
Lenses & lens accessories I currently own:
1 NIKKOR 10mm f/2.8
1 NIKKOR 30-110mm
Mount Adapter FT-1
AF-S Nikkor 50mm f/1.8G
Lenses I owned in the past:
AF-S DX Nikkor 18-55mm f/3.5-5.6G VR (3.0x)
Lenses I had the opportunity to test:
Speedlights I currently own:
Nikon SB-28
Nikon SB-600 x 3
Speedlights I owned in the past:
Studio lighting and accessories
Digital Power DP110 Studio Flash Kit (review)
Falcon Eyes tilt bracket CLD-15 x 3
Falcon Eyes Umbrella Shoot-thru/Reflective x 2
Where do I source my gears?
I have compiled a list of sources that has worked well for me.
I bought my Nikon Df from DBGadgets, an online shop with physical pick-up site. The pick-up is located at Digital Arena in the 2/F of the Alphaland Southgate Mall.
I bought my D40 kit from Mayer's Photo in Manila. I called them up at 733-7598 or 733-7722 asked for a quote, and have them delivered it at my Makati office. This is the same store where I got my Canon A40 years before. My D40 kit was priced at P22,500 and comes with official Nikon warranty.
For Nikkor glass, I buy them from Columbia Digital Star Corporation, the Philippine distributor of Nikon. The Nikon distributor has changed, and I have not bought anything from them.
Friends recommend this store in Hong Kong a lot, and I have dealt with them hassle-free. Here's the guide to Buying camera gear from New Sankyo (HK). This is where I got my Tamron model A17N II, Mount Adapter FT-1, Voigtländer 28mm / F 2.8 Color Skopar SLII, and Zeiss Planar T* 1,4/85mm ZF.2.
Pinoy Photography marketplace. I bought my Tamron model 272E, and model A13N from members of this forum. Straightforward, excellent sellers in this forum.
My recent Tamron model A16N II was purchased here.
For Tamrac bags, and other accessories, I buy from JT Photoworld in Makati.
I bought my D90 from Jerry Tieng.
My take on exposure
I wanted to get a properly exposed image, so I have to teach myself what is it.
Printing on a budget using Epson Stylus T10
I discovered how a cheap Epson Stylus T10 can give me such satisfaction at a very cheap price. Read more about it.
Post-processing, photography or art?
I have seen a lot of HDR-enhanced photos lately, and I thought of trying it out for me to gain experience or appreciation. I spent a couple of hours one night, and tried out and I would like to share my HDR experiment.
Here are some Photoshop workflows for applying color separation and blur effects.
Do you own Capture NX 2? If you do, here are some processing you can perform with it.
Lighting experiments
I use the cute SB-400 for fill-in flash and bounce flash, but there are some instances that I don't like the over all outcome of the picture. I know how important lighting is, and it inspired me to venture with off-camera lighting by using wireless flash triggers.
Learning strobist from a master, a one-on-one session with strobist Bernie Ledesma.
I now use Nikon's CLS via 3 x SB-600 and SU-800 controller, as well as the R1C1 Wireless Closeup Lighting System.