While I fancied white-dialed watches, I never had the opportunity to acquire a new one, until now. My first non-vintage white faced-watch should have been the DJ02003W, Orient's flagship model, sporting the new automatice movement, with manual wind and hack. However, it has not arrived the Philippine shores despite my early order placed at Time Trend, SM Manila. On my visit today (Apr 16, 2011), i pestered Ms. Elena again for that particular Orient, and feeling somewhat empty, I scoured the models in the Orient display, and I found this...
Its reference # is FEM76003W9 and what makes is tick is Orient's caliber 469. Now, allow me to take a moment to highlight the features of this specific movement.
Caliber 469
Automatic movement
21,600 vph
21 jewels
40 hours power reserve
Shock-proof
+25/-15s accuracy
Hour, minute, second hands, with day and date complication
This watch also exists in black trim, and has been christened by Orient USA as "Orca" and while I could have called this the "great white" the over-all theme of the watch is more likened to cool, therefore I will christen it "Aspen."
Here it is, right from the box.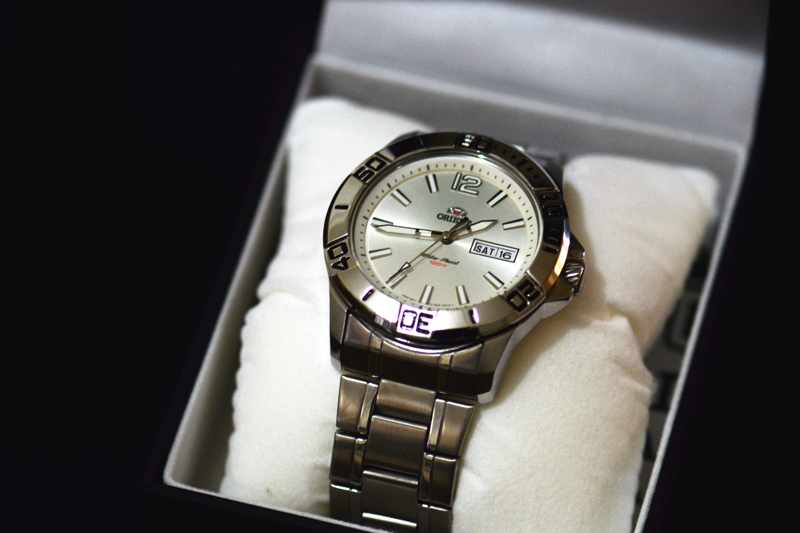 Some vital statistics
This is a big watch, measuring 42mm (bezel, without crown), 48mm lug-to-lug. Lug width is 24mm, which makes it a good candidate for a lot of 24mm aftermarket straps. It is 13mm thick, and weights quite a bit but I don't have a weighing scale to determine the exact figure.
The included stainless steel bracelet is made up of 8 links each side, and does not taper giving it a real hefty look.
Build and finish

Orient continues to provide extermely good value for money in this department. The steel bracelet is made up of folded links, although Orient did a nice job in finishing that it looks like solid links unless you scrutinize it like I did. It has brushed finish with some polished accent. There is a bit of play from the links, but nothing that I will complain about.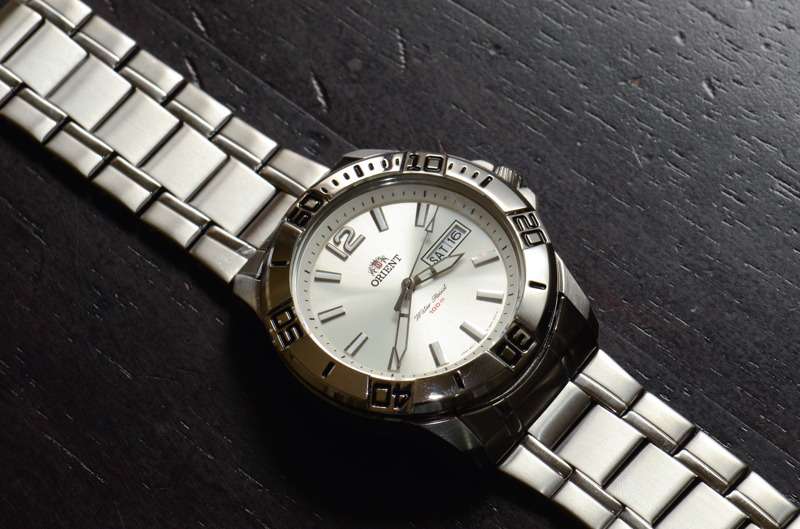 Similar to my Orient x STi Limited Edition II, the clasp is push-button type, with safety lock. If there's one thing one can nitpick, is the finish of the folds where it feels a little bit "edgy." The clasp is signed with ORIENT and Orient logo.
The case is highly polished, with a little bit of brushed finish on the top of the lugs. One should be careful in removing the end links as scratching this part of the lug is very easy.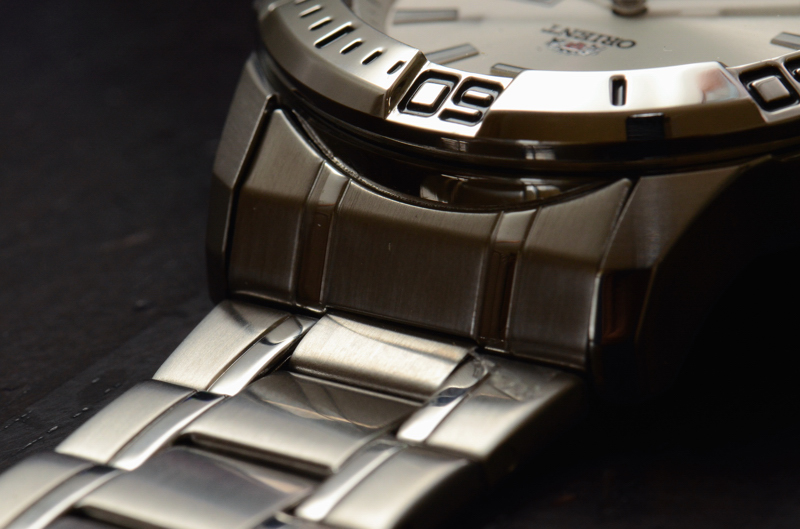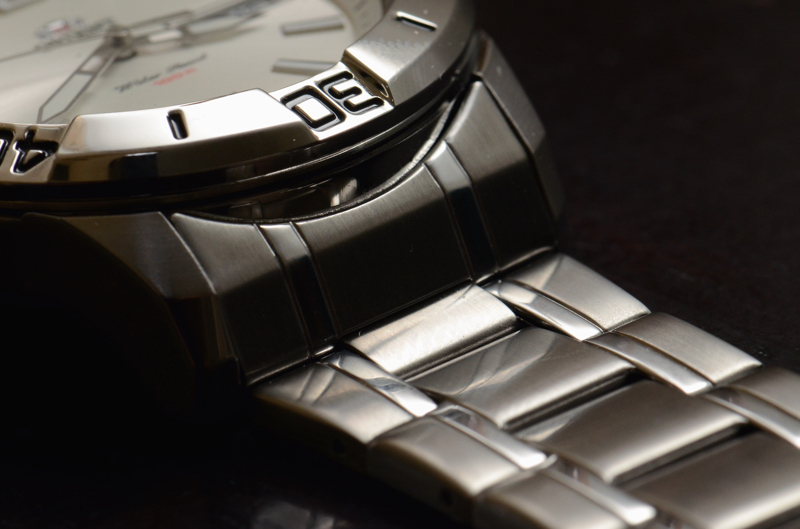 The rotating bezel is also highly polished in finish, and has recessed minute markers in 10-minute intervals. It is uni-directional with 60 clicks. Unlike my CER0002D where the bezel is loose, this one did not exhibit any play and has tight feel when it clicks.
The crystal is recessed, so the bezel will be the first contact point when the watch glides face first on desks, doors, etc.
It may be too much to ask for a display caseback, and perhaps there's nothing to show so to speak, for the 469 movement. The caseback is polished stainless steel with laser-etched decoration of the Orient logo on the center. Reference information, as well as other labels are also laser-etched.
The crown is knurled diagonally and is not signed unlike my Orient Multi-eye. I wish Orient stardize their crowns to be all signed, but the robots making these might ask for a salary increase. It is located in the usual 3 o'clock position. At 2 o'clock there is a button, flushed with the case that Orients refers to as the "click button" which is used to adjust the day.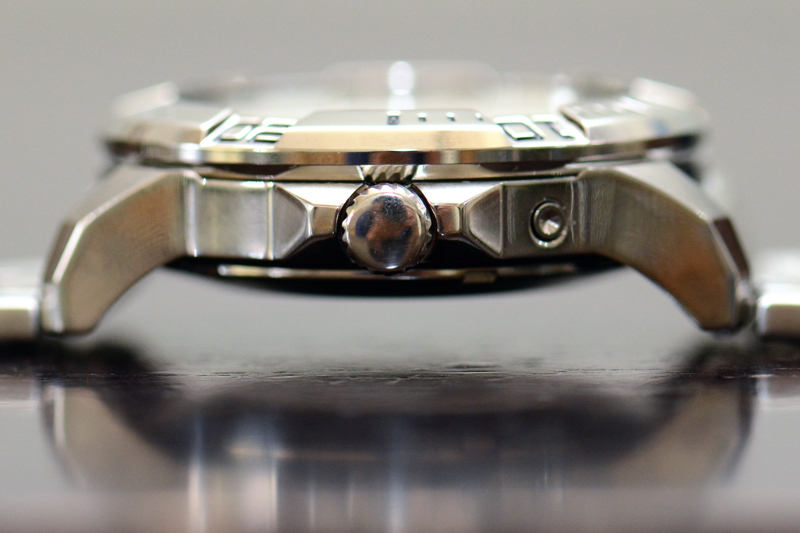 The dial is very nice, with white and silver theme, in starburst finish. Every time I look at it, I feel "cool" and it's one cool looking watch indeed. There is an inner non-rotating insert that provides the minute ticks and bolder tick at every 5-minute interval. Orient did a magical job on these markers as from an angle they shows up black, in another angle somewhat light gray, and sometimes silver.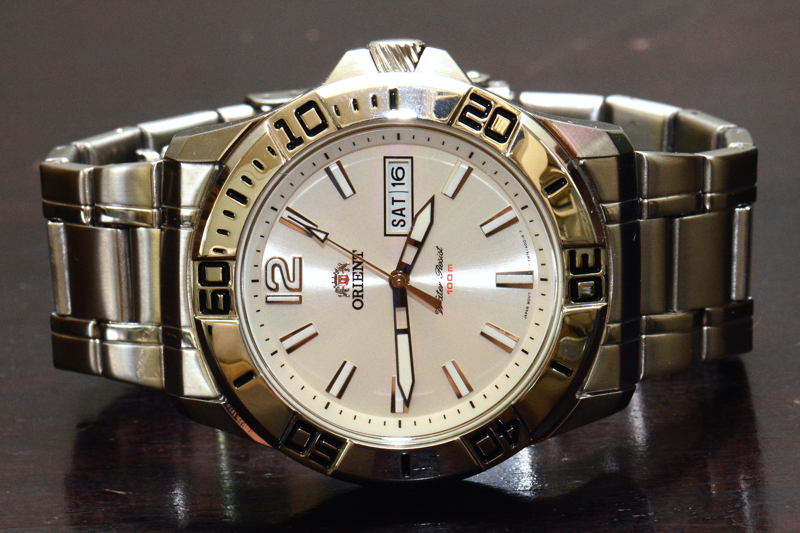 Stick markers in the dial is presented every 5-minute interval except at 3 o'clock (date/day window) and 12 o'clock where the only numeral "12" is present. The "ORIENT" and Orient logo, as well as the "Water Resist 100m" are just about the right size. I like it a lot, as they don't try to grab your attention.
I also like the semi-skeleton sword minute and hour hands. The lume on the hour, minute, and second hands are brighter than the minute markers, giving it a 3D effect.
Time-keeping features and operation
Caliber 469 provides hour, minute, seconds, day and date functionality. There is also a quick-date set at the first position of the crown. Pulling the crown to the second position allows you to set the time, and since there's no hacking on this movement, precise setting at the second is virtually impossible. While the Mako XL (EM75), that shares the same movement as this EM76, has a protruding button for the day set, Orient uses what is called a click button on this model. And because the button is flushed with the case, you'll need a tool (a toothpick will do) to set the day.
This watch is rated to 100m so it will not prevent you from enjoying the beach and some casual diving.
Comfort & fit
At the store, four links were removed (two one each side) to fit my wrist. The best thing I like about wearing it is how it hugs my wrist. I have this feeling of the watch not just on top of my wrist, but she actually becomes a part of me. Of course, the feeling of the Seiko Sportura is even better, but that's another story.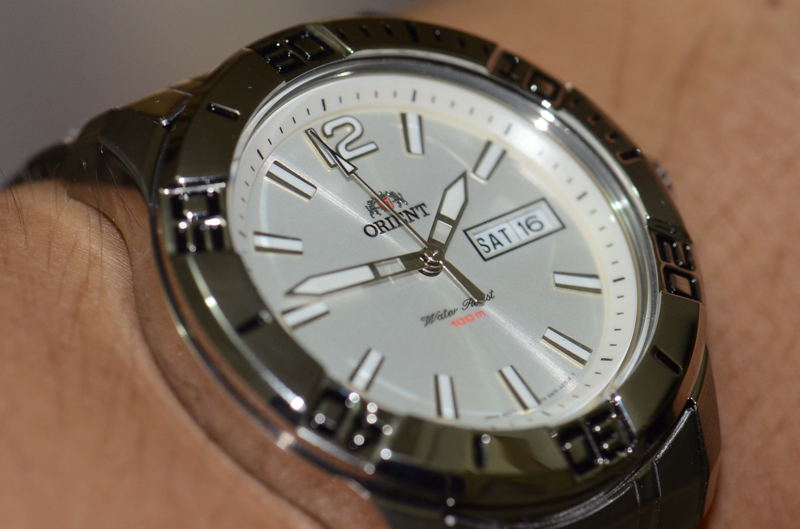 Conclusion
Another value-for-money watch from Orient. It's sporty enough, dives deep enough, but will do just as well for formal. The white face and the over-all "Aspen cool" theme is highly likeable.