My take on the Nikon 1 System J1
First post: November 24, 2011
Introduction
It has been too long since I owned a point and shoot camera. While enjoying my SLR and DSLRs, Amidst rumours of Nikon joining the mirror-less bandwagon, I've had the opportunity to borrow and experience other brands, such as the Sony NEX-5, the Olympus E-PL2, a Nikon Coolpix, and Kodak compact.
My goal is to have something I can handily carry, not necessarily pocketable, in leiu of my D7000 + whatever lens combo. Add to the fact that I don't have a wide lens, it makes the argument towards a compact viable.
Finally, the 1 System was announced and became scarcily available in some countries. Here in the Philippines, they unobtanioum just a few weeks ago. Shasinski in Malaysia don't have them in stock either. However, a recent trip to Singapore allowed me to purchase my first ever mirror-less camera.
At a glance, features that perked my interest
I was actually torn between the V1, as the first choice, and the J1. After much self deliberation, I decided for the J1 due to the following reasons:
True compact. The built-in flash will be useful for fill when the scene needs it. Having a separate speedlight, while allowing more lighting options, is no longer compact for me.
Price. The more expensive body of the N1 and the additional expense for the SB-N5 is significant jack-up from a J1.
The "pancake" 10mm f/2.8 CX-format lens.
Simplified controls. I already have too much of them on my D7000, so the J1 controls are a fresh breeze of air for me.
HD Movie. While I'm not into videography, there were several instances that I would use it, and holding and panning a D7000 + 70-200mm f/2.8 ain't nice.
No mechanical shutter. For a change, this somewhat appeals to me. While I will lose the capability to sync flash to 1/125, I can't use FP Sync either even if I get the V1.
I took a few photos of the J1 and is available here, and complete specifications from Nikon Corporation can be seen here.
Build quality
The aluminum body of the J1 has solid feel and gives me confidence about its build and construction. I chose the black color because it appeals to me most. The finish is very good and only time will tell how it will survive my acidic sweat, wherein even my D7000's finish has peeled off (perhaps disintegrated, is more apt) already.
Handling and ergonomics
The J1 is just about the same dimensions of my HTC Mozart, but thicker. Being small and lacking grip was a concern at first. However, after I handled it and took my first photo, I was confident enough. I find myself holding it just like my mobilephone with my thumb supporting the bottom instead of resting on the rubber plate beside the Mode dial.
With the plethora of controls from wheels, knobs, buttons and switches of my DSLR, I find it refreshing that I only need to deal with a few things on the J1. These include-
The Power button, of course.
Mode dial, which remains in Sill image unless I experiment.
The Menu Selector
The Playback zoom/thumbnail control which does two important things other than what its name implies- change aperture and shutter settings.
Designed for dorks?
My golly, the menu system is even simpler than my Nokia E-72, and never mind the Android on my Acer Ferrari mobile phones.
Here's a summary of the two-level menu options (Mode dial in Still):
Playback Menu
Delete
Slide show
Rotate tall
DPOF print order
Protect
Rating
D-Lighting
Resize
Crop
Edit movie
Shooting Menu
Reset shooting options
Exposure mode
Image quality
Image size
Continuous
Metering
White balance
ISO sensitivity
Picture Control
Custom Picture Control
Color space
Active D-Lighting
Long exposure NR
High ISO noise reduction
Interval timer shooting
Focus mode
AF-area mode
Face-priority AF
Built-in AF assist
Setup Menu
Reset setup options
Format memory card
Slot empty release lock
Welcome screen
Monitor brightness
Grid display
Sound settings
Auto power off
Remote on duration
Assign AE/AF-L button
Shutter button AE lock
HDMI device control
Flicker reduction
Reset file numbering
Time zone and date
Language
Auto image rotation
Firmware version
New features from Nikon
Motion snapshot. In this mode, the J1 will capture still and a movie vignette that will play 2.5x in slow motion while keeping the still images in high resolution. I tried it once with my dog, and it was a different, pleasurable experience. I have to find an opportunity to try it on people.
Smart photo selector. The J1 will capture 20 shots at 30fps and select the "best" shots from the scene. Five (5) shots will be stored.
CX format, 2.7x crop factor. The format sports a smaller sensor compared to the other mirror-less offerings from other brands. This Nikon strategy has received a lot of negative thoughts.
Fastest AF system. As of this writing, the claim is true. In addition, it has 73 AF sensors and has a hybrid AF system, combining the contrast-detect AF and phase-detection AF, depending on the scene.
Other than the above, the J1 presents a minimalist approach. There is no Panorama, Pre-set scenes, or film emulation modes (as found in the Fuji X100) provided. But it did not distract me from enjoying photography.
AF Module
While the Nikon DSLR family use what is popularly known as Multi-CAMxxxx modules, I could not find a "name" for the AF module on the 1 System.
Nevertheless, the 1 System AF module offers the most AF points at 73, which you can select individually when the camera is in single-point AF mode!
If you have used other Nikon cameras, the J1 AF will be familiar to you. The AF Focus modes are:
The Manual Focus (MF) is interesting as the 1 NIKKOR lenses does not have a focus ring, and manual focus is done via a few steps, as outlined below-
set Focus Mode to MF
press OK on the Menu Selector to engage manual focus
push Playback zoom/thumbnail control up to zoom in, push down to zoom out
rotate Menu Selector dial clockwise to go from Macro to Infinity, counter-clockwise from Infinity to Macro
The preceeding steps are perhaps the most difficult part in operating the J1. If that bothers you a lot, just use any of the other three modes.
I am truly impressed by the performance of the AF even in poorly-lit conditions. As an avid sports photographer, I was dying to see how the J1 would perform. I was delightfully surprised. Here is a photo I took from Ninoy Aquino Stadium where the NCAA Season 87 volleyball is being held.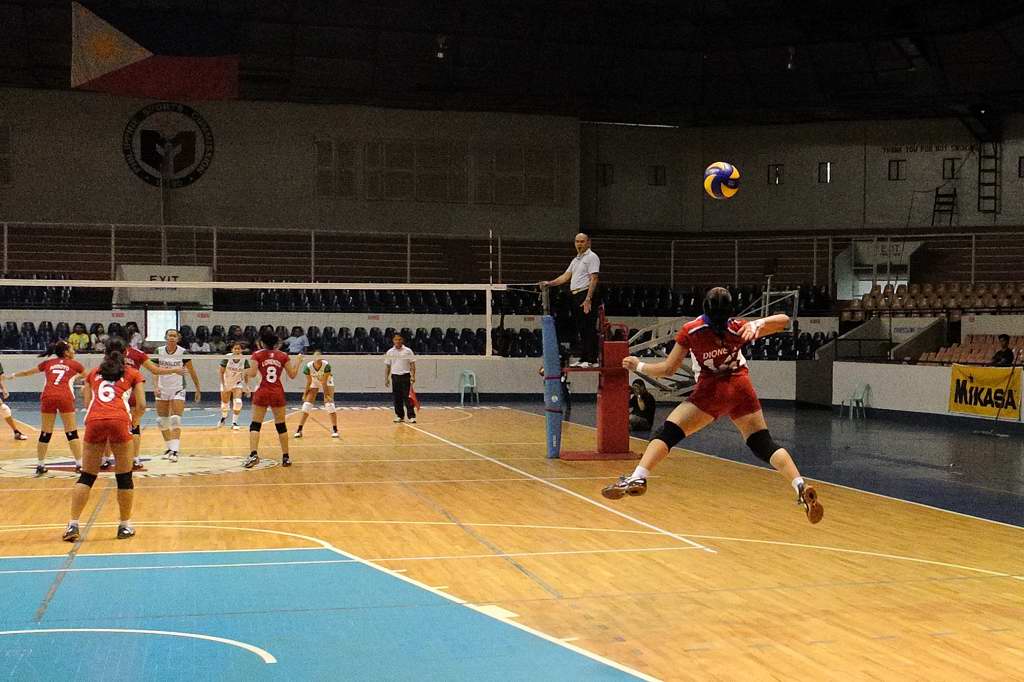 Here are my thoughts about using the Nikon 1 System J1 for sports photography.
Frame Rate
There are three settings I can select that includes Single-frame, Continuous, and Electronic (Hi). The Continuous allows up to 5 fps in single AF or manual focus, Manual focus or Shutter priority mode when shutter speed is at least 1/250 s. When in Electronic (Hi) mode, I can select between 10, 30 and 60 fps.
Quick access to select any of these modes are provided via the Feature button [F].
High ISO
For a small sensor mirror-less camera, it is interesting to find out how well it handles scenes at high ISO.
These were taken in JPG Fine, Large size format, hand-held. No post processing applied, no crop, just straight out of the camera.
Click on the thumbnail to see the full-size version.
Low-light Santa
Night shot windows
ISO 100 NR OFF
ISO 400 NR OFF
ISO 1600 NR OFF
ISO 3200 NR OFF
Noise Reduction
Just like my subjective preference with my previous Nikon cameras, I have the noise reduction off for Long exposure NR, High ISO noise reduction settings.
Active D-Lighting
Just like other Nikon cameras, the D-Lighting can be applied in shooting mode which is referred to as Active D-Lighting.
My preference is to apply D-Lighting after the photo has been taken, either in-camera or using Capture NX2.
Dynamic Range
All in all, the three previous features, I suspect will affect the dynamic range of the captured images. This is the primary reason why I don't want so much processing done on the camera. I'll just deal with those later using Nikon Capture NX2.
Picture Control
The Nikon J1 offers five (5) built-in Picture Control settings- Standard, Neutral, Vivid, Monochrome, and Portraint. In addition, you can have nine (9) custom Picture Control settings that you can Save to/Load from the card.
White Balance
The white balance options on the J1 are limited to the following:
AUTO
Incandescent
Flourescent
Direct sunlight
Flash
Cloudy
Shade
Preset manual
There is no option for specifying temperature, but I was not detracted because finally, I have a camera that does it intelligently. I used AUTO to take these photos from Manila Auto Saloon 2011 at SMX Convention Center.