AF-S VR Zoom-Nikkor 70-200mm f/2.8G IF-ED
Sports, finally!
I love watching fast action sports such as volleyball, MotoGP, Formula 1, etc. and has always been a spectator. When I was in Melbourne to see the Australian Grand Prix, I had a video camera with me instead. At Sepang, in Malaysia for the Malaysian Grand Prix, I had a Canon A40 with me. And in both situations, how I wish that I have a decent DSLR and appropriate lens with me.
Having the urge to have decent equipment for sports photography on the hobby perspective, I finally got an AF-S VR Zoom-NIKKOR 70-200mm f/2.8G IF-ED, the grey colored one.
Packaging
Huge! Was my first impression when I was handed the box containing the lens. Inside the box I found a plastic wrapped CL-M2 lens case sitting on a big chunk of styrofoam. The manual, warranty card are tucked nicely inside the box.
Inside the CL-M2, wrapped in another plastic packaging is the lens with a HB-29 lens hood in the same color scheme. Very nice!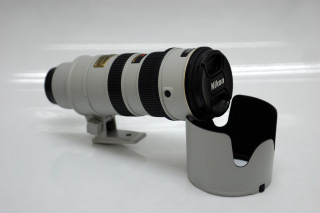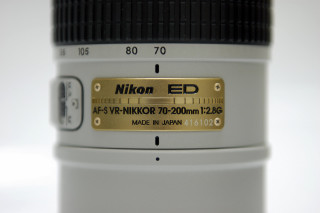 Specifications
I'm not going to repeat what the manufacturer said here.
Initial impressions
Bigger, heavier and much longer, compared to my AF-S 24-70mm f/2.8 which is a big lens already. Coming in at nearly 1.5kg (1,470 gm according to the manual), it seems that the lens mount of my D40 is going to break with this lens attached. This time I'm serious...
It does have that "macho" appeal when mounted on a tiny (yes, the D40 seems tiny) body of the D40, but what the heck.
The build is, without a doubt, leaps better than anything I currently own. This is metal, baby. In nice light grey tone, with black rubber rings.
The zoom ring has a nice, smooth and well damped operation. Operationally, the same can be said about the focus ring, but it is "curbed" which would help you distinguish it from the zoom ring during operation.
Being a "G" lens, there is no aperture ring available, so manual focus cameras will be out of luck when using this lens. But for supported bodies, it does allow aperture to be selected electronically, and provides distance information for flash and ambient light exposure processing.
There are a bunch of switches, that includes the M/A-M (AF w/ manual override/Manual), focus limiter switch (Full/Infinity-2.5m), VR On/Off, and VR Normal/Active. In addition, there are three Focus Lock buttons.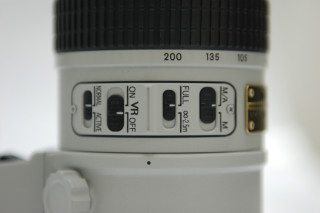 The focal length markers are not the printed type. Every number is engraved on the lens body. Heck, even the markers are engraved!
The built-in tripod collar with mounting foot, lets the lens rotate for vertical and horizontal shooting, and the collar foot can be removed via a hot-shoe type mount. This is a handy feature, as I don't need a ball head for my monopod.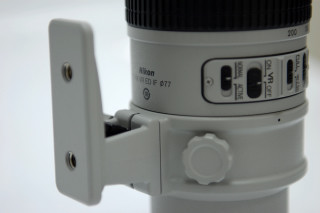 A knob lets you lock the collar into position, and another knob locks the mounting feet securely to the collar. You can loosen this knob and press a latch which allows you to detach that mounting feet away from the collar.
At this price point, I can't accept any imperfection, and so far I'm satisfied.
Basic features
I wanted this lens because it offers consistent f/2.8 aperture throughout its focal range. While the maximum aperture is f/2.8, I can vary it to a minimum of f/22 by setting it in the camera body.
The minimum focusing distance is 5' which will be a challenge in tight places, but I doubt if I'll be using this in such situations.
As a professional quality glass, I expect to have some form of protection from the environment, and it does. It features dust and moisture resistance, which is good. I was hoping it has shock resistance up to 5G but I must be dreaming.
The filter size is big at 77mm. This means that every filter I can think of, including but not limited to ND, GND, UV, IR, are going to be expensive. And speaking of filters, since this glass features IF, I will be able to use CPL filters without too much bother, as the lens front element does not rotate.
The supplied HB-29 lens hood is BIG. Just look at the picture above once more to see how big the hood is. The latch is also made of metal. Most likely one more reason why this lens is expensive.
The VR capability will be important when shooting at the long end of the focal length, and offers two modes. The first one is called Normal, and the manual mentioned that this is the mode to be used when panning. The second mode, called Active, is used when one is shooting in a condition that involved horizontal and vertical movement, such as in a boat, vehicle, or probably a horse.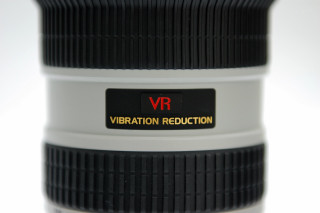 In addition, there are three focus lock buttons which when pressed, locks the current focus into place which is great for recomposing the shot without having to fiddle controls in your camera. These buttons are placed way out in front, which could affect your hand-holding of the lens should you reach out that far. On a monopod, I didn't find its placement distracting.
Handling and use
It looks awkward mounted on a D40 body, but handling is still manageable and within reason. Of course, you don't let it hang on you neck as you would with a 50mm lens.
There are marks for focal distances 70, 80, 35, 105, 135 and 200mm and also has a window to show the focus distance in meters and feet. The lens does not physically extend anymore when zooming in and out.
Focusing is very fast even if the lens is heavy. The SWM is doing a superb job here. When the camera is set to AF-C, the focusing tracks really fast as I focus on different objects. It was a joy to use this in sports or fast action photography.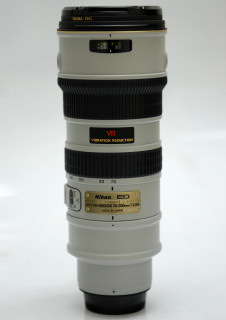 Performance
I'm a sucker for sharpness, and I've read and heard that at 200mm this lens is soft. However, I find it sharp enough in every focal length. Don't trust me on this, as I've never tested it with resolution charts.
Auto-focus performance is another reason why I chose this lens. AF speed is fast and silent, which makes it suitable for the type of photography I bought this lens for.
As a bonus, this lens creates some really nice bokeh. I have not really pixel-peeped the photos but the bokeh are so pleasing in both VR and non-VR mode.
If there's one thing I would miss about the Tamron lenses, is their capability for close distance focusing. This lens requires that you're at least 5' away from your subject and that might throw you off in some situations. I found that shooting some objects at home won't let the body focus anymore because I'm too close.
What about VR? It does work for me. When I found the VR to be my ally when I shoot with the AF-S VR 105mm f/2.8 Micro, I have high hopes that the VR on this lens won't let me down. A few test shots are strong enough to convince me that I can depend on this technology, when properly used.
I have no urgency to measure (via IMATEST) the light fall-off, lateral chromatic aberration, or ghosting of the lens, such that I'll just enjoy it as a hobbyist that is me.
If there is a drawback I can mention this early, that is the use of battery power. I noticed that a fully charged battery lasts shorter with this lens compared to my other f/2.8 Nikkor lenses, and that is even non-VR mode.
So there, I know that I like this lens a lot and is something that I will keep forever and take it with me when I die.
FX test on Nikon D3
The following photos were taken with my friend's D3. I was looking for the vignetting issue on FX bodies, which is more visible on the second photo. Both shots taken with 70mm, f/2.8, 1/1250, ISO 200 settings.