Custom Search
Nikkor & Tamron comparison
We all want a Nikkor, but for a hobbyist, the price is somewhat prohibitive. Many will use Nikkor lenses as the benchmark, and compare their 3rd party lenses against it, hoping that it would be near the image quality of the equivalent Nikkor.
As a non professional hobbyist who enjoy photography, I would like to get my hands on these fine Nikkor glasses, and see for myself how really good they are.
Here is my non scientific, non professional attempt at comparing the current lenses that I have with that of the Nikkor glasses.
I had an opportunity to take these sample shots at the studio of a friend who's a professional photographer. She generously provided all the Nikkor lenses used in taking these photos. Thank you so much Miss J!
For the shots, the body used was my D40 mounted on a studio stand Foba DSS Alpha. Infrared remote shutter release was used because I'm lazy. The lighting is via an SB-28 speedlight mounted on the D40 hotshoe and set to non-TTL auto. There is no other lighting provided other than available light.
Both the D40 and SB-28 was set to ISO 200 for all shots, and the flash is set to the same f-stop as the D40 for every shot taken.
The D40 is set to AF-C, dynamic area, and matrix metering. There is no real reason why it was set to AF-C other than I forgot to set it to AF-S because I was playing with the AF speed of the Nikkor.
The D40 is set to take RAW and the files are converted to 800 x 600 JPG using the Nikon Picture Project. The thumbnails are 240 x 160 that were resize from the 800 x 600 via Photoshop CS3. No post-processing of any type, including but not limited to sharpening, exposure adjustment, were applied.
Nikkor AF-S 17-55mm 1:2.8 G ED vs Tamron SP AF 17-50 Di LD
For the first comparison, we have one of the most popular focal range- 17-55. The Tamron offers 17-50mm at f/2.8 and the Nikkor 17-55 at f/2.8.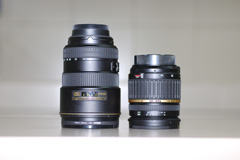 Taken with 60mm f2.8 AF Micro Nikkor D Lens A
The picture below shows the size discrepancy between the Tamron and Nikkor. When the Nikkor is mounted to the D40, it certainly dwarfs the body. It certainly looks awkward, and you might be wanting a bigger body, D300 perhaps? If I own this lens I wouldn't mind though!
Tamron 17-50mm f/2.8
Nikkor 17-55mm f/2.8
50mm f/2.8
35mm f/2.8
24mm f/2.8
17mm f/2.8
Note: I believe I screwed up the shot from the Nikkor at 50mm as it seems to be not in focus. I can't believe I did this again. It could also be because of the use of the infrared remote control, I don't know.
Nikkor 85mm f/1.8 vs Tamron SP AF 90mm Di LD Macro
Grabbing this second opportunity, I compared the 90mm f/2.8 Tamron with the 85mm f/1.8 Nikkor.
| | |
| --- | --- |
| Tamron 90mm f/2.8 | Nikkor 85mm f/1.8 |
| | |
| 90mm f/3 | 85mm f/2.8 |
| | |
| 90mm f/4 | 85mm f/4 |
| | |
| 90mm f/8 | 85mm f/8 |
60mm f2.8 AF Micro Nikkor D Lens A
Finally, I also took some shots of this Nikkor lens. I don't have a close Tamron equivalent so, it is presented here on its own.
Nikkor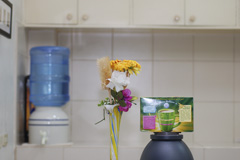 60mm f/2.8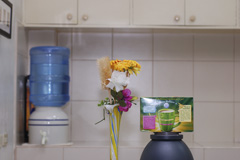 60mm f/4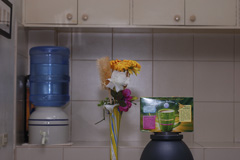 60mm f/8
Nikkor 18-200mm f/3.5-5.6G ED-IF VR vs. Tamron 70-300mm f/4-5.6 Di LD 1:2 Macro
I have always wanted to test a VR lense and an opportunity came to have a few shots of the Nikkor 18-200mm VR and compare it to the Tamron 70-300mm. My D40 is in auto mode, as well as auto ISO. It was interesting to find out that the Tamron needed lower ISO even if both the Nikkor and Tamron is limited to f/5.6 at the long end.
I don't know what to say about these results, as the Nikkor was clearly beaten by the Tamron even with VR engaged. Maybe it does not suit my shooting style? Is there such a thing?
| | |
| --- | --- |
| Nikkor 18-200mm VR on | Tamron 70-300mm |
| | |
| 200mm, 1/60, f/5.6, ISO 1600 | 300mm, 1/60, f/5.6 ISO 1250 |
| | |
| 200mm, 1/60, f/5.6, ISO 1600 | 300mm, 1/60, f/5.6 ISO 1250 |
| | |
| 200mm, 1/60, f/5.6, ISO 1600 | 170mm, 1/60, f/4.8 ISO 1000 |
AF-S NIKKOR 24-70mm f/2.8 G ED IF vs. Tamron SP AF28-75mm f/2.8 XR Di LD IF
In this next installment, I'm comparing two lenses that I actually own. Shown below is the picture comparing their physical size. For the price paid for the Nikkor, it better be big :-)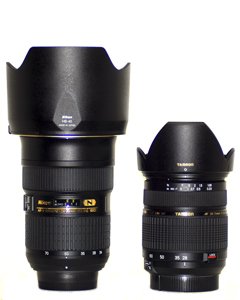 The following shots were taken at f/2.8, ISO 200, white balance set to Fluorescent. However, the comparisons below has one flaw- the metering mode is not the same. The Nikkor shots were set to matrix, and the Tamron was center-weighted. The reason for this was they were taken almost a week apart and I forgot the Tamron was set to center-weighted.
Nikkor 24-70mm f/2.8
Tamron 28-75 f/2.8
N/A
24mm
28mm
35mm
50mm
70mm
N/A
75mm
Here's another comparison on the long end (75mm; 70mm Tamron, 70mm Nikkor) of both lenses. These shots were taken using ambient light, ISO 200, and tripod on the same spot.
You will notice how my cheap Giottos tripod's balance got screwed up by the heavy Nikkor.
Nikkor 24-70mm f/2.8
Tamron 28-75 f/2.8
N/A
75mm, sRGB
N/A
75mm, AdobeRGB
70mm, sRGB
70mm, AdobeRGB