Custom Search
Voigtländer 28mm / F 2.8 Color Skopar SLII
First post: January 17, 2014
Introduction
I got the Nikon Df as body only on purchase and since I already sold my AF-D 50mm f/1.8 lens with the D7000, I am "forced" to buy the newer AF-S 50mm f/1.8 G.
The combination is good and I was enjoying the results, but then looking at my Nikon 1 J1 with a "pancake" lens in the form of the 10mm f/2.8, I thought of putting in a similar lens on the Df. Research led me to Voigtländer, a brand that is familiar to me, but have not had the chance to own one due to cost.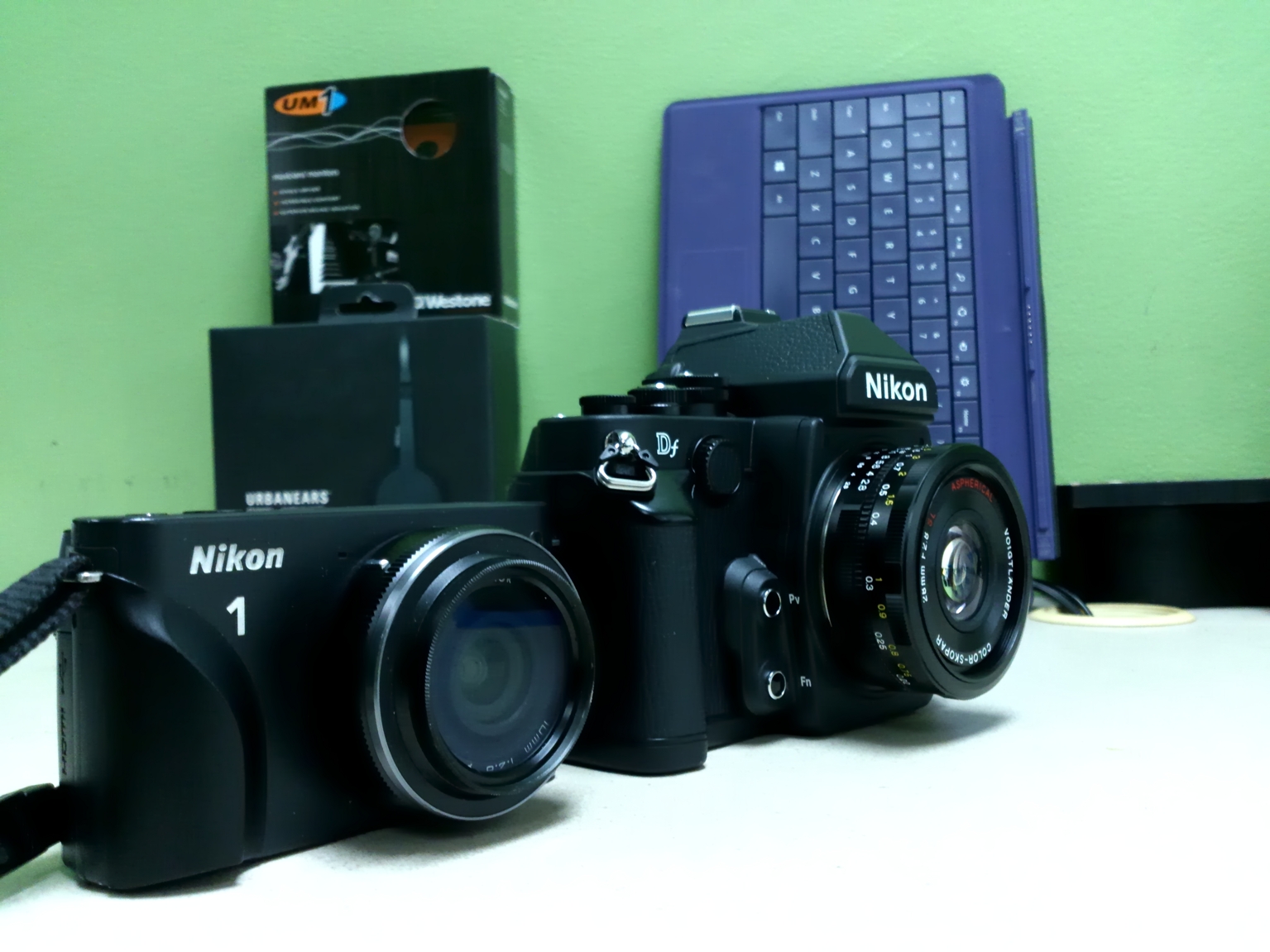 The Voigtländer SL II lenses are CPU-enabled manual-focus designs available in AI-S (with Program) mounts. The CPU of SL II lenses enables full compatibility (except for autofocus) with the full range of AF Nikon SLR cameras.
With some SL II lenses, I thought the prices are competitive with higher-end Nikkor lenses. The 50mm f/1.8 G is cheap at P8,900 as it is also plastic in materials. As an example, the Nokton 58mm f/1.4 sells for under $500 while its Nikon equivalent is around $1,700. Of course, the Voigtländer SL II is manual focus and could be detrimental if you're not into that kind of thing.
The specifications lifted from the official website are shown below-
Focal Length

28mm

Aperture Ratio

1:2.8

Smallest Aperture

F 22

Lens Construction

6 groups,
7 elements


Picture Angle

74.8°

Aperture Blades

9

Nearest Distance

0,22m

Macro

1:5

Diameter

63.3mm Nikon AI-S

Length

24.5mm Nikon AI-S

Weight

180g Nikon AI-S

Filter Size

52 mm

Colour

black

Mount

AI-S (CPU intergrated)

Item Number

19650 Nikon AI-S
There is a local distributor of Voigtländer and their official website is here. However, they only stock MFT and EF lenses and will take them up to two (2) weeks to get the Nikon mount version. Since I am excited to get one, I ordered from my favorite Hong Kong shop, New Sankyo. The order was placed Wednesday and is due to arrive the following day.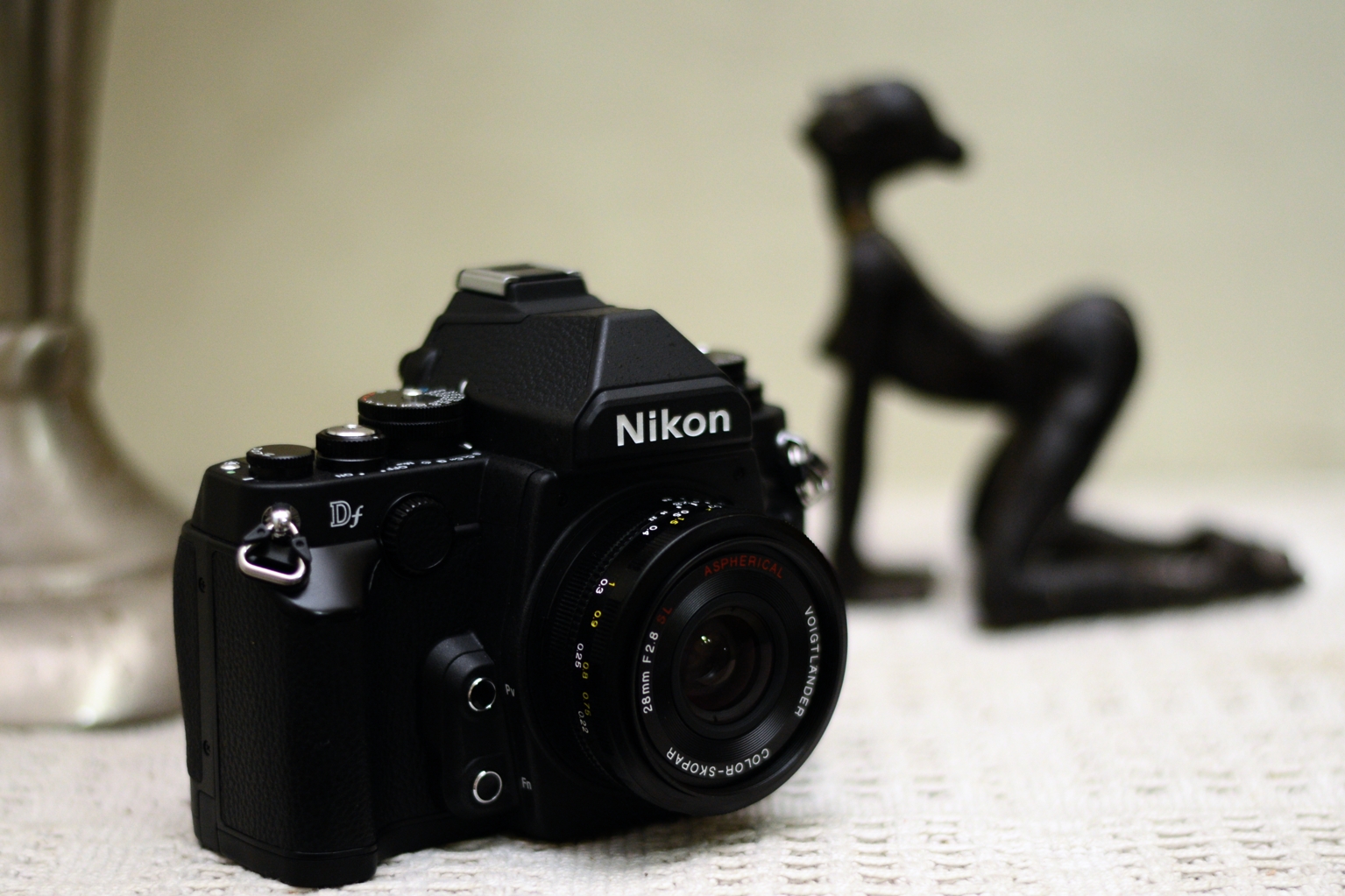 Initial impressions
The lens is short, just about 1" long (sic). Well, it wouldn't have been a pancake lens if is it long. As I previously hinted, I paid for better construction and materials for this lens. While light at 180g, it feels solid as the lens body is metal.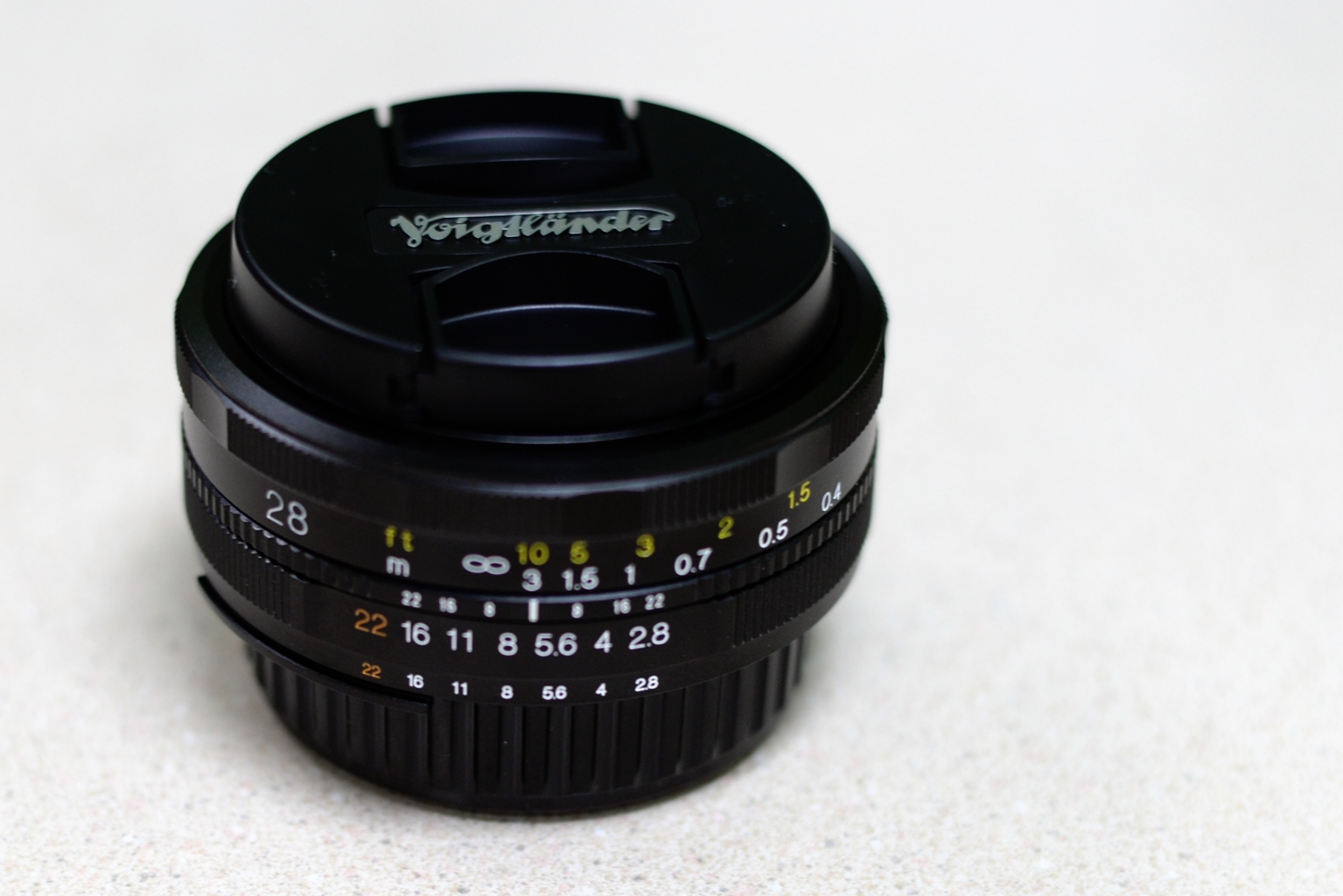 So how do you mount a lens this short? You will definitely grab both the focus and aperture rings as they're so close, and both may turn because there is no aperture ring lock like those found in AF-D Nikkor lenses. The 1 Nikkor 10mm f/2.8 does not have an aperture ring so I have more area to grab to aid in turning. In addition, there is no alignment dot, so I have to be careful in mounting it.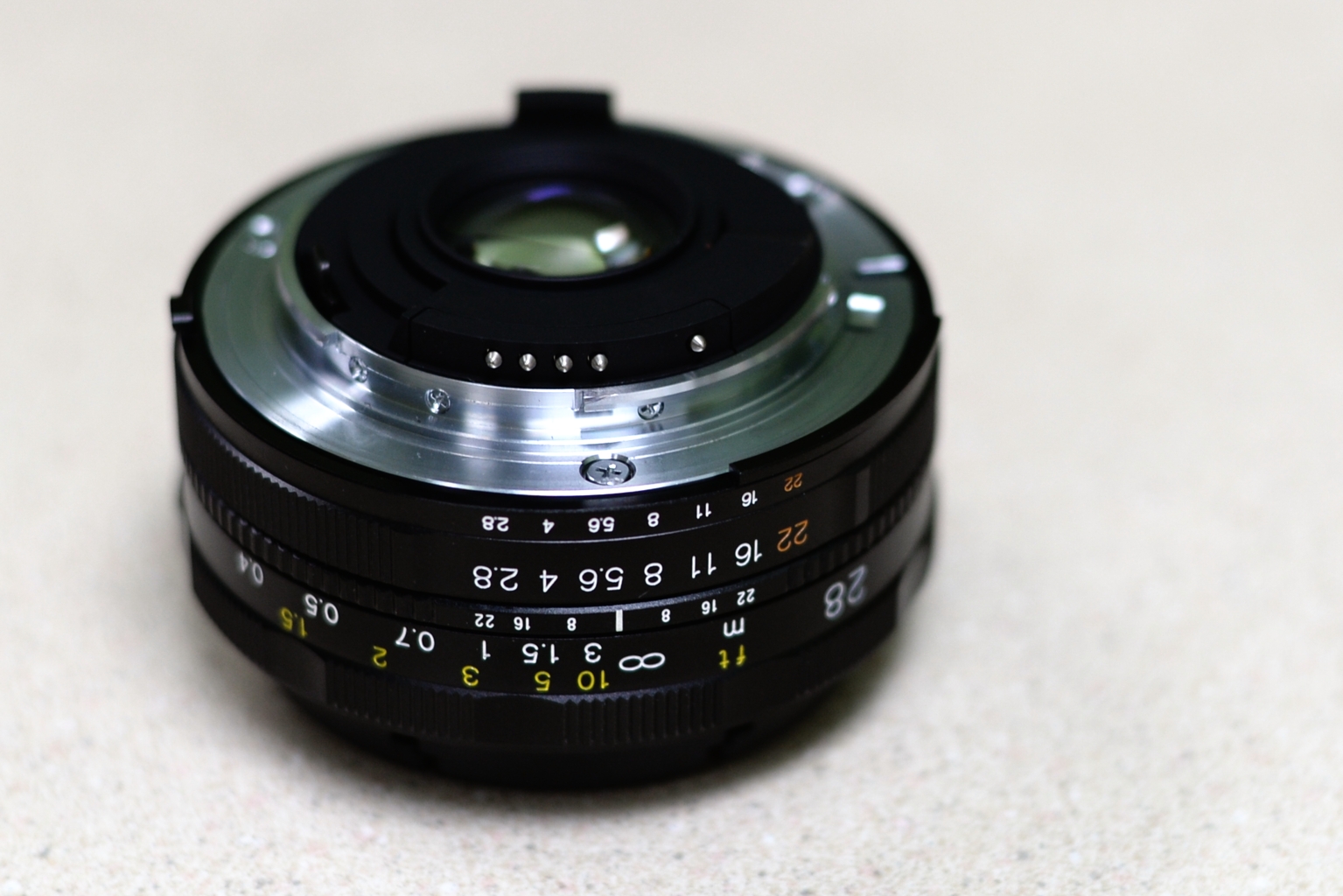 Being "chipped" has its advantages, in that it allows communication between the lens and the Df. This includes aperture information, thus the lens must be set to f/22 and I can control the desired aperture from the Df. This is not special as I did with my old Tamron lenses in the past.
I prefer to use the aperture ring of the lens instead, and the Nikon Df allows that. Simply go to f7 Customize command dials and set Aperture settings to OFF. I saved this setting as part of the other custom settings that I called "Pure photography" in bank B.
The focus indicator dot on the Df viewfinder will tell me if it has locked focus on the subject.
One of the things I find handy with this lens is that it has a depth of field scale. This would make calculating the hyperfocal distance so easy.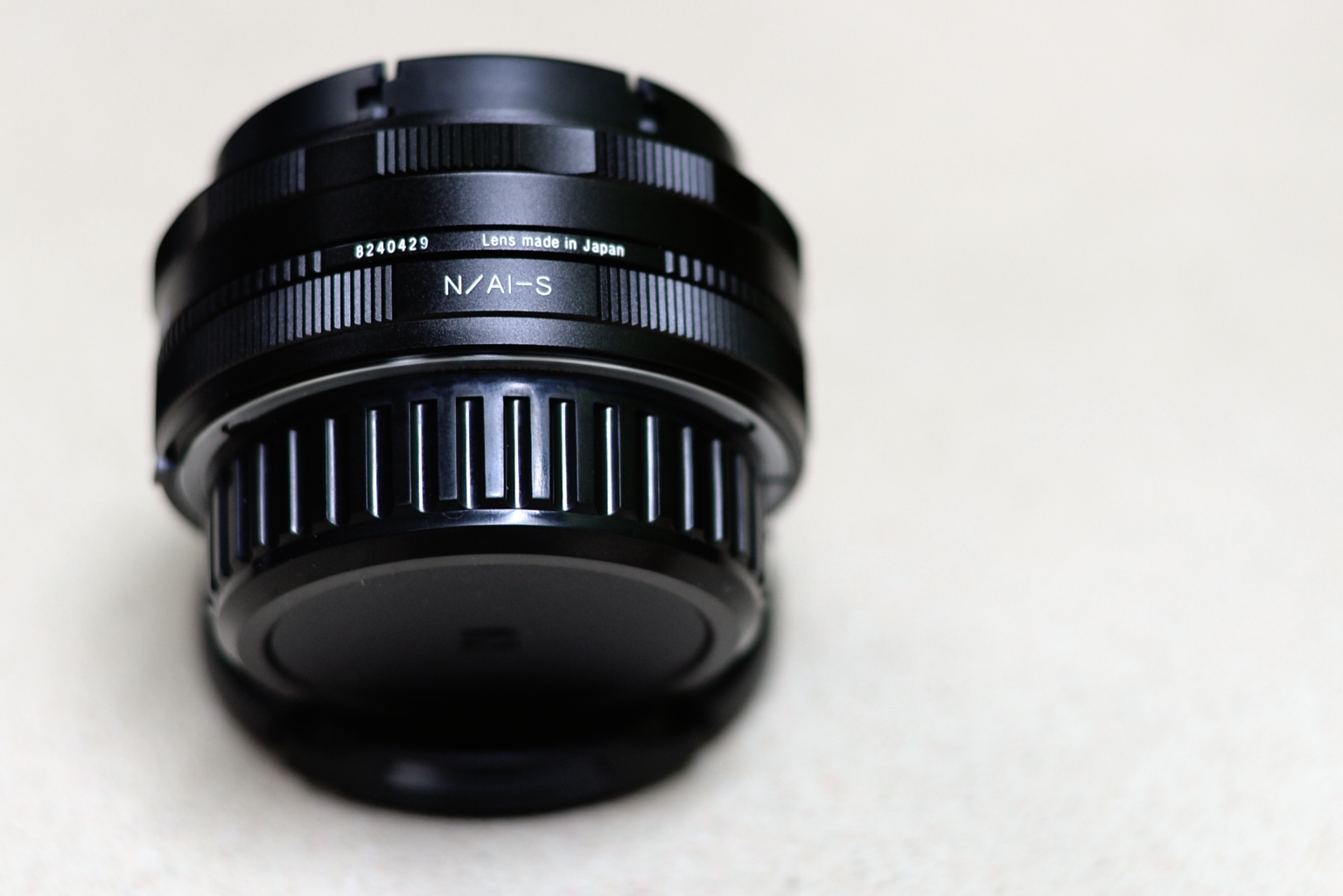 General features that I like
Pancake
Light
Short focusing distance
Very smooth focus
Run and gun...
Not. Being a manual focus lens it will be a challenge, if not impossible to focus on playing dogs or any fast moving subjects. But the intention is to hone and craft an image. Pure photography, right? Having said that, I am still surprised that I was able to manually focus at moving subjects from time to tine.
Falloff is visible wide open however, that does not bother me. What's important is that I know what the lens characteristics are so that I can work with it, not against it.
This lens is sharp at center wide open. The edges may be a little less so, if you're pixel peeping.
Compared to the Nikkor AF-S 50mm f/1.8, this lens offers more saturated and contrasty rendering.
I took a casual shot of some crappy cityscape in the morning at 28mm, f/8, ISO 200. The really big file (9.67MB) can be downloaded here. As far as distortion, flare, CA and all faults a lens might have, I am not complaining. Of course, my tests are very limited right now, and the preceeding statement may change as time goes by.
On the Nikon 1 J1
I used the FT-1 adaptor to mount the lens onto my J1, and I like it. Manual focus operation with the J1 is relatively easy. But the J1 does not have the option to allow operation of the aperture ring which will require the lens to be at f/22.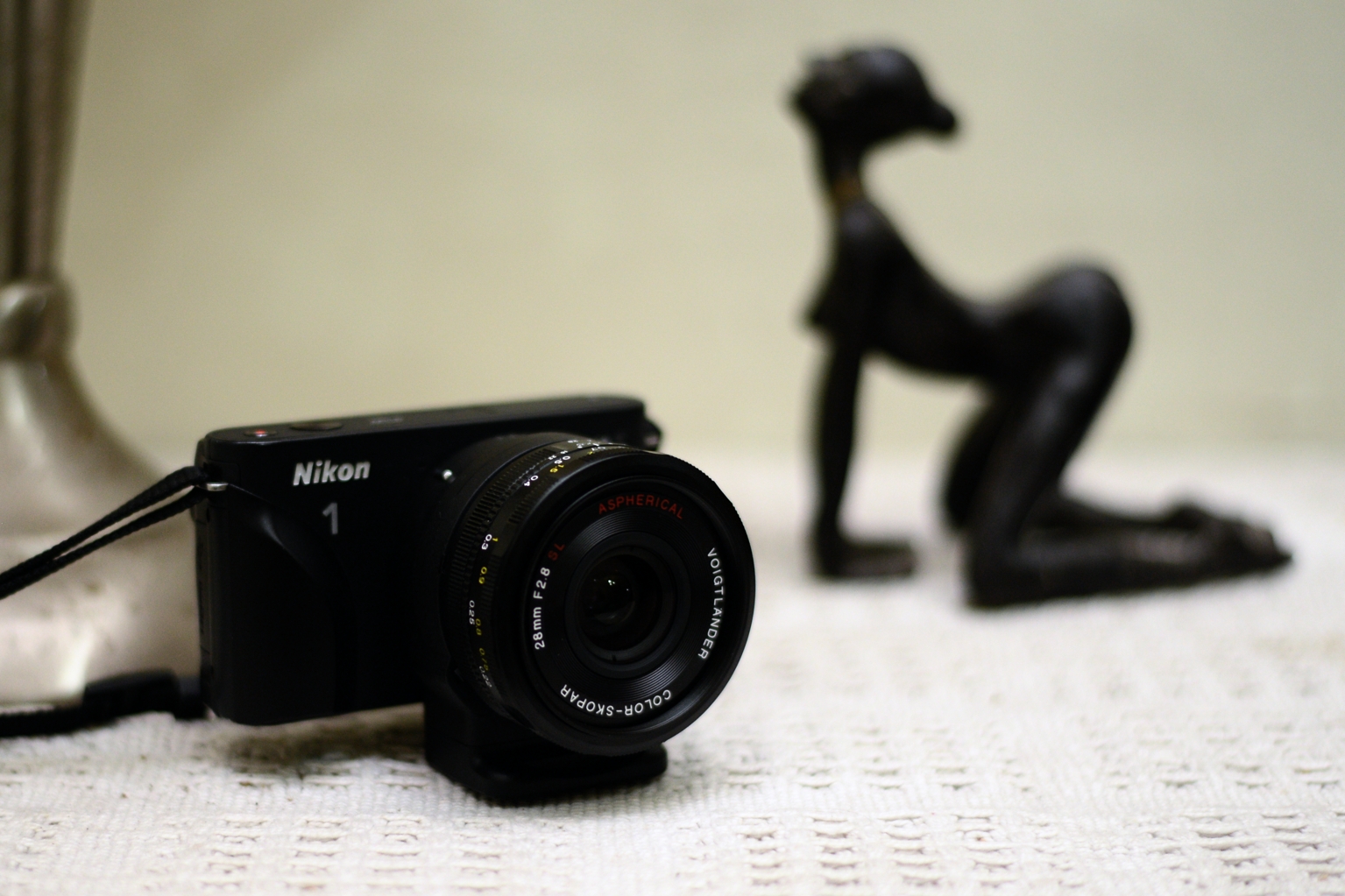 On the D800
Well, subjectively the lens is too small for the D800. For me, this lens is a perfect fit for the Nikon Df.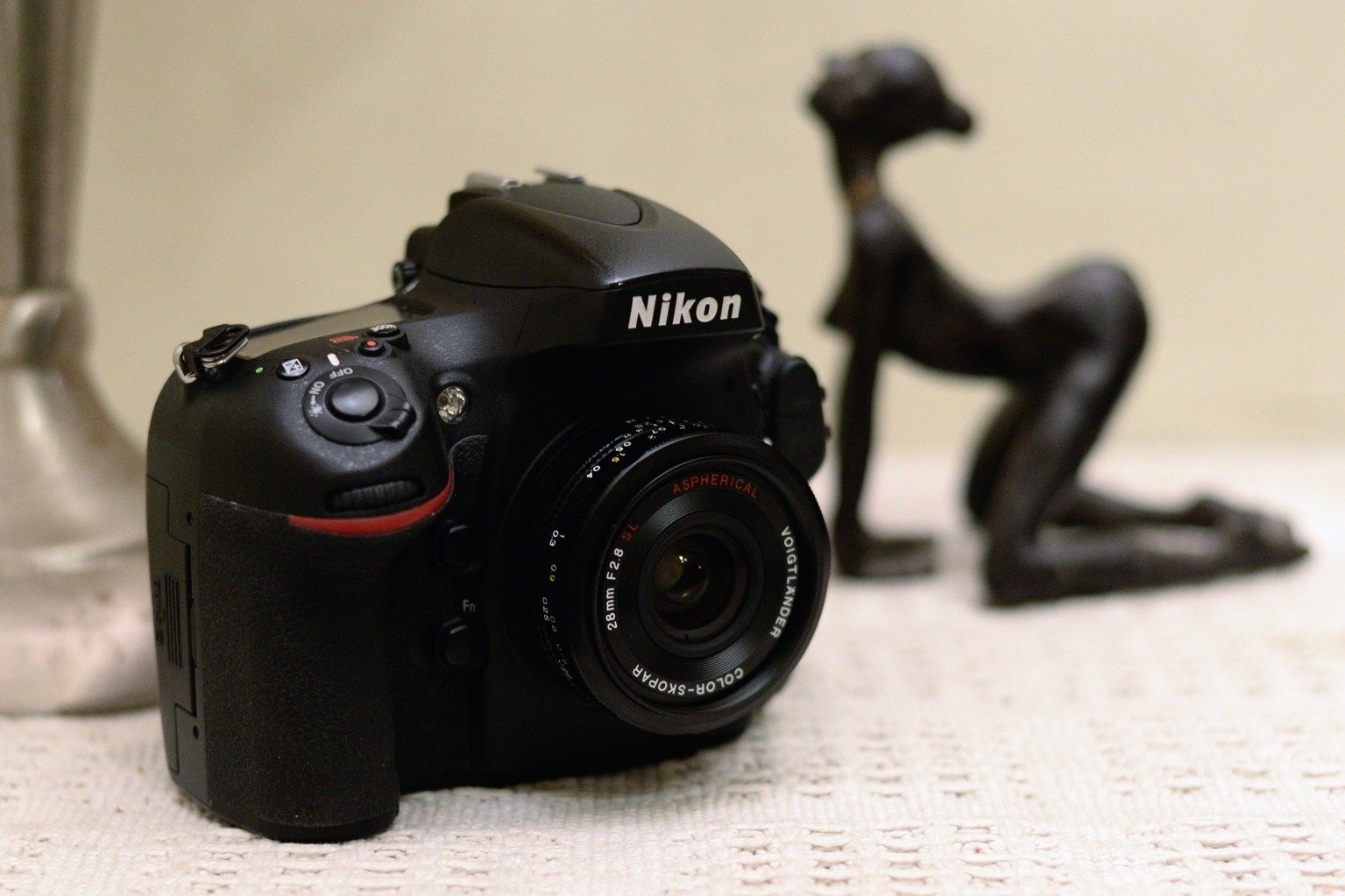 Gallery
Images may take sometime to load, depending on the speed of your Internet connection.