Aqua La Voce S3
December 27, 2021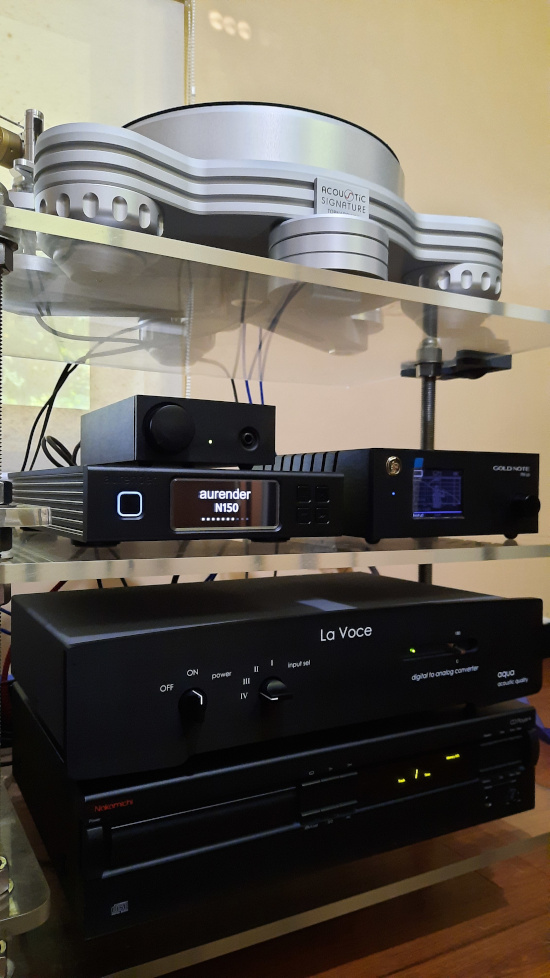 An entry-level high-end experience
Say what? After a session with the Aqua La Scala Mk II Optologic DAC in my system, I decided to step up the goal for my first-ever serious assault in the digital world. I took home the Aqua La Voce S3 when the distributor's stock was replenished, it is the entry-level offering from the marchio Italiano.
La Voce offers:
Discrete R2R ladder DAC

FPGA-based digital decoding

Non-oversampling

Digital filter-less design

Galvanic isolation for S/PDIF - AES/EBU

Jitter-free design

Discrete analog stage (no op-amps used)

Dual discrete power supply for analog and digital circuits

Modular design
Having modest specifications, it won't win in "numbers game" even against the iFi Zen DAC.
PCM 24/384kHz, DSD 64, 128 (DoP) on USB and I²S

PCM 24/192kHz, DSD 64 (DoP) on Coax and AES/EBU

Frequency response 20Hz to 22kHz +0.5dB/-0.5dB
Total harmonic distortion + Noise <0.1% 1kHz 0dB
It is not a multi-purpose device like those from other manufacturers where pre-amp, streamer, headphones, and storage roles are available. The La Voce is a straightforward DAC, master of one.
It's got no bells and whistles, no remote, utilizes old-school mechanical rotary knob for power and input selector duties. There is phase option (0/180) via a toggle switch, and a single power indicator LED.
Unlike many manufacturers who embraced MQA and made their devices certified either as renderer, core decoder, or full decoder, Aqua made a stand not to support it. The La Voce is non-oversampling, filter-less design and the thought of polluting it with artifacts from digital filtering imposed by MQA goes against the company's design principle.
If MQA encoding is your thing, either buy a streamer that has core decoding option, and the La Voce will receive the unfolded 96kHz bits. Another option is to use a software full decoder like Audirvana (not the Studio). Other than these options, look elsewhere which also isn't Denafrips nor Holo Audio.
So why the La Voce?
I have not found any locally available R2R DAC within the budget. Before the pandemic, I emailed Alvin of Vinshine Audio for a possible purchase of the Ares II DAC which at that time had a 6 - 8 weeks lead time that doused cold water over my burning interest. Next, I spoke to Mod House Audio for the purchase of the Soekris DAC, but I wasn't successful as the model I want was sold while I was still in the middle of email exchanges with Ryan Dietz. Soekris themselves do not seem to be interested in my inquiries. Most recently, I spoke to Wildism Audio HK who are an authorized reseller of the Holo DAC. The Spring 3 has a pretty good price, but not cheap at $2,500 for a Level 2. Factor in shipping, duties, and taxes and the bill piles up.
My other concern is local support and warranty, the Aqua official distributor is one I can trust and responsive to all my questions, silly or serious. The La Voce S3 is modular which made it highly upgradeable and is already in its 3rd iteration (hence S3), therefore I bet my piggy bank that in the future when new boards of interest become available, I might upgrade. Lastly, it was the higher model (and more expensive) sibling that gave me the first high-end sonic experience when I borrowed it briefly months ago, leading to this purchase.
My interest in a DAC is underwhelming. I still use a FiiO E7 portable headphone amplifier/DAC (24/96) with my Dell notebook up to this time. Prior to that I was using my own assembled AMB Laboratories' Gamma 1 (y1) DAC. Having owned an all-analog input integrated Naim NAIT 5i where the digital augmentation is via Raspberry Pi running PiMusicBox (and later, Volumio) my appetite for a serious DAC hasn't changed.
When I acquired the Hegel H190 I am contented with its internal DAC which is based on Asahi-Kasei Microdevices' AK4490 chipset. I found the performance sufficient for my tastes and again, I do not long for something better.
I do, however, won't want to miss the opportunity presented so when I took in a loaner Chord Qutest DAC (custom FPGA, non-MQA) listed at $1,895 (P87,500 from Lazada) my excitement grew. After a few days using the unit with different devices as sources, my conclusion was that I'm still fine with the H190 DAC.
As a fan of Thorsten Loesch and owner of iFi iPhono 2 for quite a while, the iFi Zen DAC (Burr Brown chip, MQA renderer) was a focus of interest when it came out. It didn't take long, and I took delivery from Egghead and was introduced into my system fed by a Surface Pro running Audirvana 3.5 via USB. My usage of the Zen DAC transitioned to being a headphone amp than a DAC. I still strain hard trying to differentiate a 48kHz stream from an MQA stream of the same track. Well, having a price tag of P6,400 my wallet wasn't hurting in a big way.
The next opportunity came in the form of a cheap, brand-new Topping D70S (ESS Sabre, full MQA) so I thought this might be it. This Topping model has been getting rave reviews based on its stellar measurements from a popular "measurements forum" where the iFi Zen DAC has been critiqued for poor measurement results. It only took me less than an hour to dislike the D70S and I promptly returned it to the owner without regrets.
These experiences made my mind up that I should pursue the previous direction of going with R2R based DAC. So back to my spreadsheet that hasn't been updated in years, the Holo Spring 3 gained an entry joining three models from Denafrips and one from Soekris.
In an unexpected turn of events, I was given the pleasure of "extracting" a high-end DAC from a long-time audiophile friend that gave me the opportunity of taking it home before turning it over to the distributor. This unit is the Aqua La Scala Mk II Optologic DAC, which after hours of listening through the H190 and fed by the same Surface Pro running Audirvana, my jaded desire was suddenly aroused.
I can't afford the La Scala though. But it has an entry-level sibling which is the La Voce at a price in my ballpark. I still had to go through a state of conundrum involving the Denafrips Pontus II, Holo Audio Spring 3 L2, and the Aqua La Voce. In the end, the La Voce gets the vote based on the previous statements I declared. I paid for it without an audition, somewhat riskily.
Initial impressions
When I took home the La Voce, I was also bringing along the Aurender N100C media server for audition. When I hooked them up to my system, I listened to the Aurender first. Feeding the current iFi Zen DAC via USB, I was in awe. I never thought I would hear such audible improvement from a dedicated media server compared to my PC-based setup.
Since the N100C has a coaxial output, I used an RCA-BNC converter and hooked it up to the La Voce BNC coaxial input. I was floored. The combination was so potent that I wanted to text the distributor to inform them the Aurender isn't coming back. Heck, I was only planning on buying *either* the Aurender or La Voce, but since I paid for the Aqua already, the Aurender was an afterthought, then this happened. I'm in deep shit.
Thankfully, I still have some change from not buying the Gryphon Diablo 120, so the decision was made to acquire the Aurender, but which model is for another blog post.
Build
The La Voce has a traditional top and bottom C-shaped anti-resonant aluminum chassis painted in matte grey using a material made by Nextel resulting in super-matte finish with suede-like haptics. The front facia is adorned with a thick brushed metal panel in either black (the distributor's choice) or silver (would have been my choice).
The Italian company do know how to choose the right font, simple and very legible.
The chassis is designed for serviceability (remember you can upgrade the components) than aesthetics so if you're looking for a "CNC-milled chassis from a solid aluminum block" there isn't one.
Connectivity
Two La Voce inputs have been dedicated to streaming (via USB) and CD playback (via coax). The I²S input won't be useful with the current devices I have, and the modular input defaults to AES/EBU, with other options available including AT&T ST fiber, RCA, and Toslink.
The Aurender music server instantly identified the USB characteristics of the La Voce so it's plug and play. For Windows, the driver must be installed first before Audirvana 3.5 can see the La Voce using ASIO.
I used a custom XLR to RCA cable to feed my Qualiton X200 inputs, which are unbalanced. Why not just straight RCA to the X200? Well, the Naim headline-2 headphone amplifier has tethered cable with male RCA ends already, and it goes into the La Voce unbalanced out instead of the Qualiton X200 fixed outputs. This custom XLR to RCA cable is also the same method I use with my Gold Note PH-10 to connect to the X200.
The La Voce balanced outputs offers 4.2V RMS and the unbalanced half of that at 2.1V RMS. Based on the stock photos from the manufacturer, the balanced outputs come from a separate board and has no output transformers.
Listening impressions
There were several combinations I configured to listen to:
Aurender N100C -> iFi Zen DAC via USB

Aurender N100C -> La Voce DAC via coaxial

Surface Pro (Audirvana 3.5) -> La Voce DAC via USB

Aurender N100C -> La Voce DAC via USB
Setup #2 gave me a lasting impression that coax can sound this good, and I was afraid using the USB interface might be inferior. Thankfully, setup #4 is a testament to suppress my doubts as coaxial and USB inputs sound the same. Setup #1 while sounding delightful, is clearly bested sonically by setup #4.
The battle is then between setup #3 and setup #4 but audibly, the latter keeps on revealing its upper hand in nearly every track I played.
In the end, La Voce complemented the Qualiton X200 + Scansonic MB3.5B in the areas of:
Detail retrieval without the harshness. Makes the D70S a proof that excellent measurements don't translate into an equally excellent sonic experience. The La Voce can dig into the music rather than digging into the bits which is what the D70S does.

Holographic soundstage. This is the strength of the Qualiton X200 and the La Voce doesn't muddy that, but rather plays with it nicely. Using the USB input from the Aurender, or Coaxial input from the CD player I truly enjoy the layered soundstage and precise imaging.

While the La Voce can be described as transparent in its delivery, it also offers texture in spades.

Dynamics in micro- and macro-level makes listening to music exhibiting dynamic contrast so much pleasurable.
I love PRaT and that is what kept me from sticking to my Naim integrated amplifier for a decade. The Hegel H190 came in better than the Moon 340i in this regard, which is why I bought the former, but didn't entirely beat the Naim.
The La Voce gives me a similar and subjectively better experience, as the music, any type of music, just flows with rhythmic focus. It is simply much more enjoyable whether I'm playing an album from BABYMETAL, Metallica, James Newton Howard, Isao Suzuki, or Hans Zimmer. The La Voce timing charms its way into my soul, and I'm so delighted.
I am truly satisfied with what I'm hearing right now, and I can say that these gears will be staying with me for a very long time.
The Aqua La Voce and the rest of the Aqua models can be auditoned and purchased from Audio Visual Drivers Inc. You can also visit their Facebook page.
Equipment used
Audio Hungary Qualiton X200 tube integrated amplifier

2 x Electro Harmonix 6922

2 x Electro Harmonix 12AX7

4 x Tungsol KT120

Scansonic MB3.5B

Aqua La Voce S3 DAC

Aurender N150 music server

Acoustic Signature Tornado NEO turntable

TA-1000 NEO tonearm w/ Koetsu Urushi

Clearaudio TT-3 tonearm w/ Clearaudio Concerto

Gold Note PH-10 phonostage

Nakamichi CD Player 4 CD player

Naim Headline-2 headphone amplifier

Nordost Blue Heaven speaker cables

Nordost Blue Heaven interconnects

Furutech e-TP80 power filter distributor