Hegel SUPER USB DAC and headphone amplifier
January 7, 2014
Simplistic approach
The Hegel SUPER was designed with a clear intention- enhance PC listening experience with a simplistic approach.
When I say PC, it meant a few hardware and software combination, as follows:
A PC running a version of Microsoft Windows

A Tablet running a version of Microsoft Windows

A Mac running OS/X

A PC running Ubuntu
Conspicuously absent in the list are Tablets running Android, and there is a reason why.
Hegel is a Norwegian company founded on the premise of combating harmonic distortion. Its founder Bent Holter, patented the SoundEngine Technology which was the result of making an amplifier for a band named The Hegel Band, where the name of the company originated.
Telenor, a Norwegian telecommunications giant became involved and today, Hegel became one of the established brands in the world of Hi-Fi. Hegel is represented in many countries around the globe, and in the Philippines, Architectural Audio is their representative.
Schiit happens...
I am interested in getting the pair of Modi and Loki from Schiit, but after getting confirmation from their technical person that they will not make me a US plug for 220V, I decided not to pursue the order.
I have been using a discontinued FiiO E17, aka Alpen for my portable music system, but I am still on the look out for something that may be better.
The SUPER is Hegel's only product for headphiles, for now. I am not sure where the SUPER name came from, so I'll leave it at that.
While the SUPER is marketed as a headphone amplifier, it actually is a combination DAC and amplifier, just like the FiiO E17.
Packaging
Well, how else can you package a small headphone amplifier? It came in a small box, just bigger than a pack of 10s cigarette pack. Inside, the headphone amplifier itself is contained in a bubble pack, a "manual" and 4 pieces of felt adhesive feet can be found. That's it.
The build quality and finish of the SUPER is very good using a milled solid piece of brushed aluminum. It is garnished with the engaved HEGEL logo.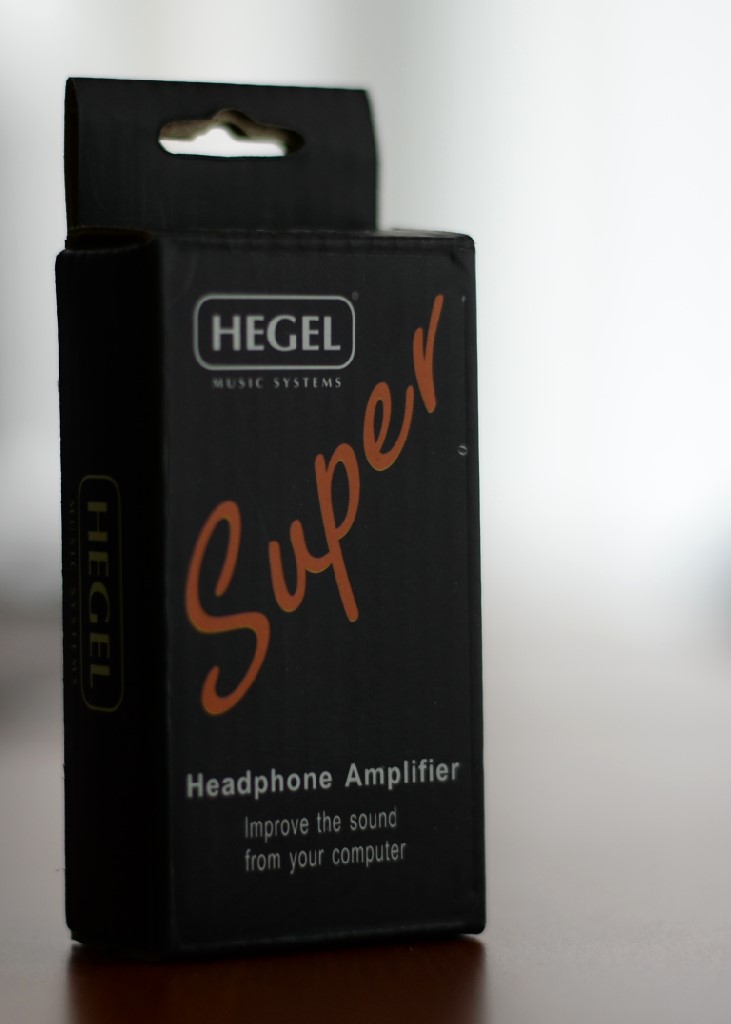 Small and simple
I did say it is small right? Here it is beside the FiiO E17.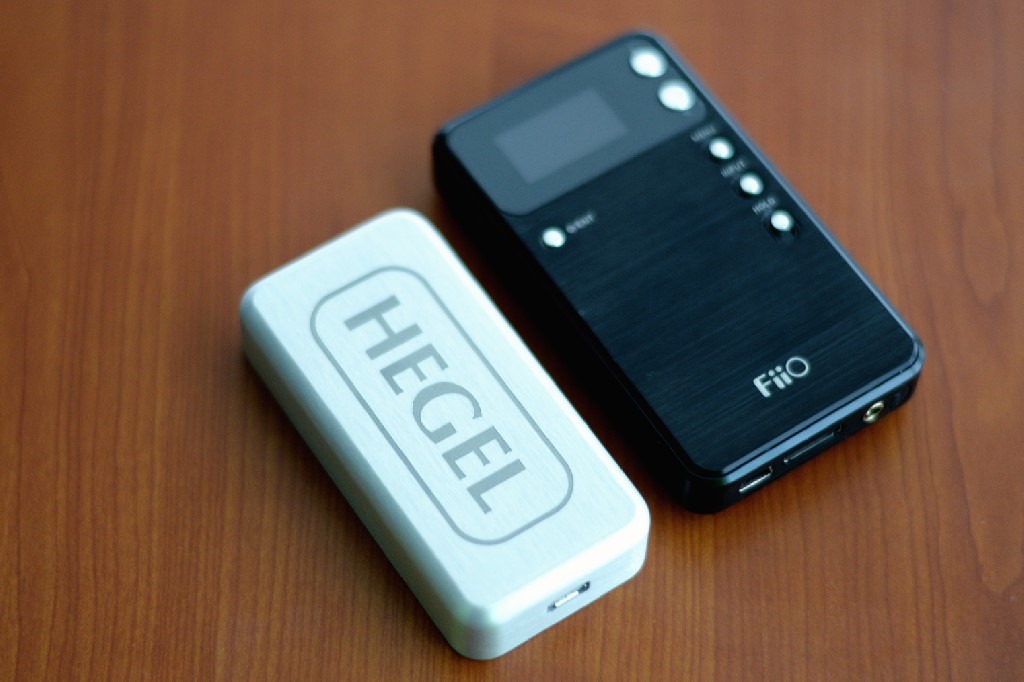 Unlike the E17, there are no controls at all on the SUPER. It is meant as a plug-and-play device that simply works. Here are the technical specifications of the SUPER-
Digital inputs: USB micro
Outputs: mini-jack (analog) + optical mini-jack (digital)
USB interface: up to 24 bit / 96 kHz, plug & play
Noise floor: -140dB
Output impedance: Below 1 ohm
Dimensions: 1,6 cm x 4,1cm x 8,2cm (HxWxD)
Dimensions (US): 0.6" x 1.6" x 3.2" (HxWxD)
So, how simple is simple? Using a Type B micro USB cable, I plugged the device to the USB port of my Microsoft Surface RT running Windows RT. This simplistic approach means that special device drivers are not needed.
The Surface recognized the SUPER and we're all set.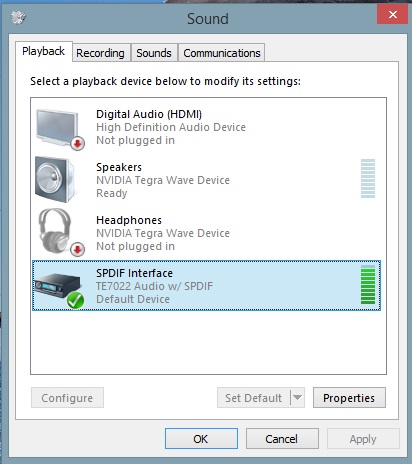 Technical mumbo jumbo
The SUPER is using a TE7022 USB 2.0 high quality USB audio streaming controller manufactured by Galaxy Far East Corporation. It is 1/3 of the complete headphone solution. The other 2/3 is made up of the DAC (digital-to-analog converter) and the amplifier itself. Hegel said that the Reference Amplifier technology is a proprietary, in-house design. The main point of this design is not to add coloration to the sound and let your headphone's sonic signature shines.
I can't find a single screw and it seems that the bottom is glued to the rest of the body.
Do note that the SUPER draws its power from the USB host. How much power I don't know, but my Microsoft Surface definitely consumes more juice than normal with the SUPER plugged in.
Sonic impressions
Now, for the most important part. How does it sound? Well, for this ride I took out my AKG K240S, AKG K702, Harman Kardon SOHO, Westone UM1, and yes, Urbanears Tanto for the ride.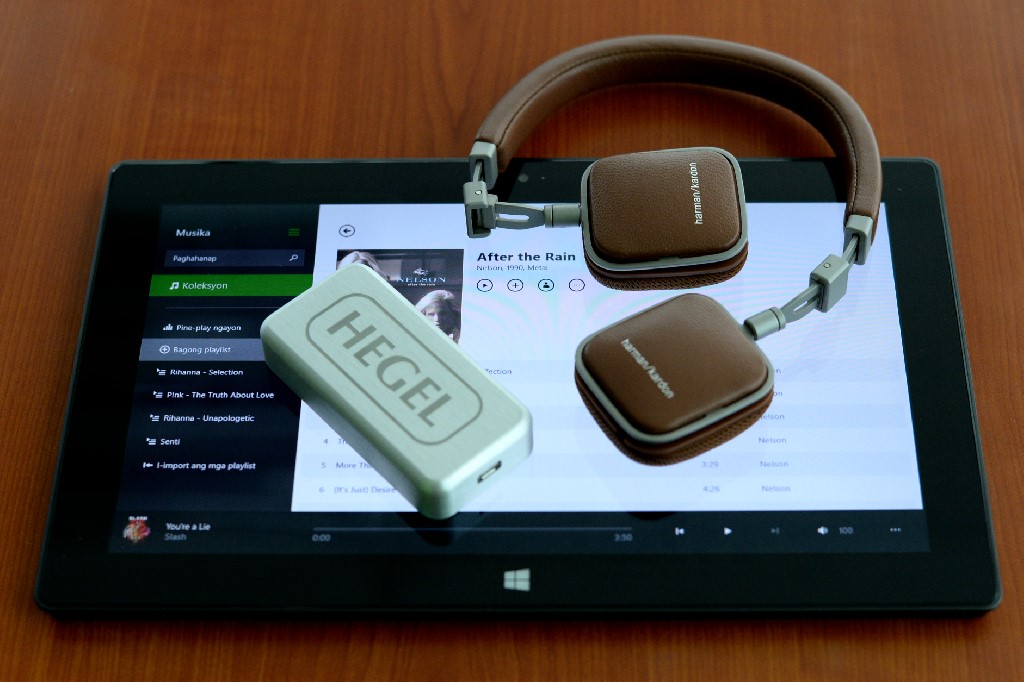 The Microsoft Surface can drive the SOHO, Tanto, and UM1 from its built-in amplifier. It is no surprise because these headphones are designed for portable music players, and are highly efficient. The SOHO can be driven by an iPhone 5S, 5C and iPod Touch 5th generation at near full or full volume, depending on the recorded material.
For the K240S and K701, these portable devices nor even my Acer S3, and Microsoft Surface have enough juice to drive them. This is where the appeal of the SUPER will come in- full-sized, non-efficient cans can now be used.
Equipment used
Synology 212j NAS

Microsoft Surface RT running Windows RT

Hegel SUPER headphone amplifier

AKG K240S monitor

AKG K702 monitor

Harman Kardon SOHO

Urbanears Tanto

Westone UM1