Custom Search
My take on the Huawei Talkband B2
July 27, 2015
It's been years that I wanted to track my activities, which basically is walking and cycling. However, I couldn't get myself to buy one of those trackers. A friend of mine has recommended Fitbit years back buy I don't find the product appealing.
Microsoft surprised us with the Microsoft Band and I fell in love with it. However, I can't own one as it is only available in the US, and more recently in the UK. I was ready to accept how ugly it was, and the fact that the rubber parts of it will deteriorate as fast as they would in my wrist. Alas, I still don'thave one.
So what do I use to track my activities? A phone. Yes, you read that right, a phone. I use my Lumia 636 equipped with SensorCore technology and together wit the Microsoft Health & Fitness app, I am able to keep track of my steps, calories burned, and for biking, the distance, GPS, and speed.
Then Microsoft dropped the bomb. On September 2015, Microsoft Health & Fitness on all platforms (iOS, Android, Windows, Windows phone) will be discontinued.
Enter the Huawei Talkband B2...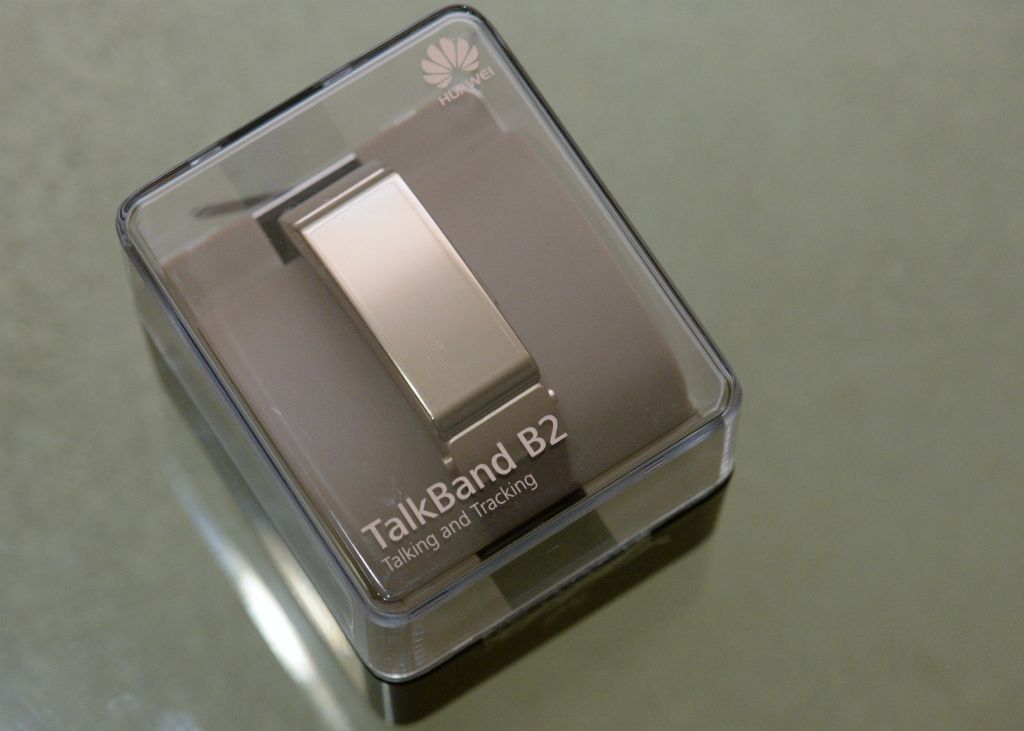 Design
The design of the Talkband B2 is not a big departure from the Talkband B1, but a much improved one.
It still comes in two parts- the removable body and the "dock and strap assembly."
It comes in three options, black or white with plastic strap or gold with leather strap. I have the gold version, and it's nice to know that the strap is removable and replaceable. I can ask our favorite watch strap maker to make one for me should I wish to. Here's how one fits my Hublot.
I found a strap I used before in an analog watch that fits nicely with the B2.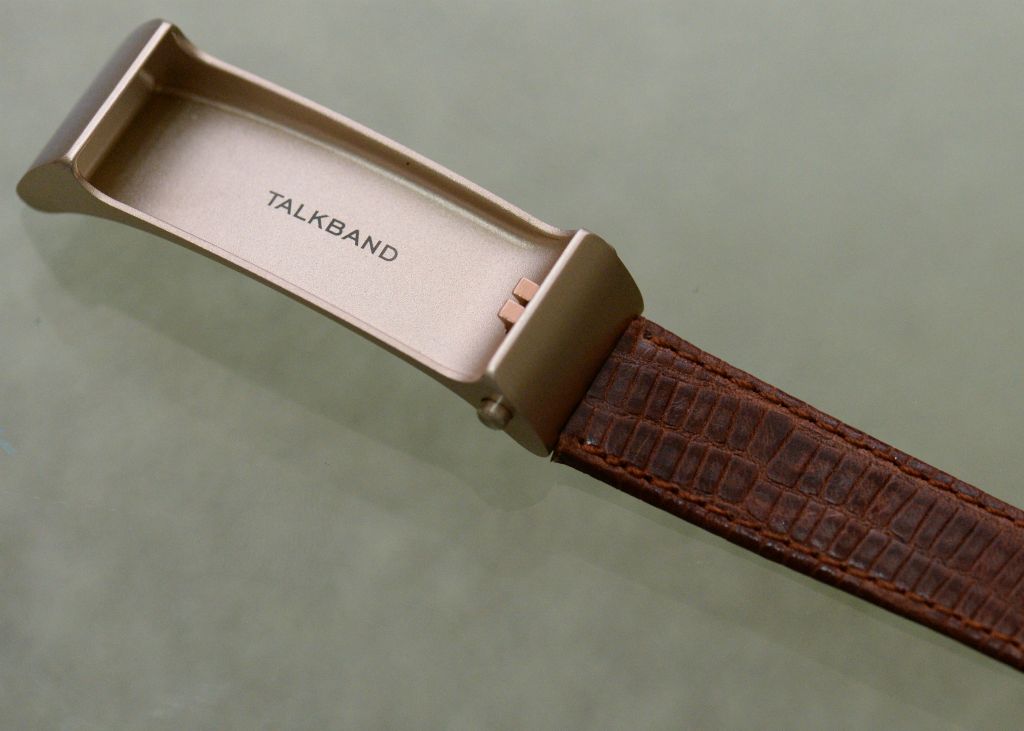 Workmanship
Huawei continues to amaze me with how good their products turn out. The Talkband B2 is no exception.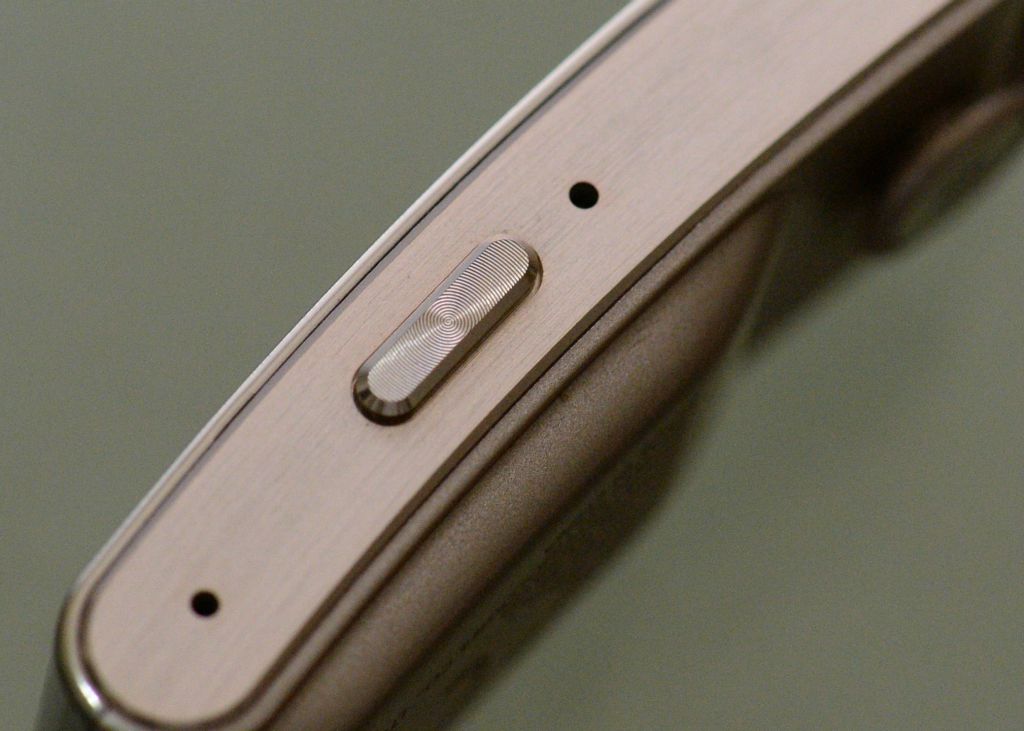 Please see the gallery at the end of this article to appreciate more close up photos.
Features
I compared the Talkband B2 to the closest Fitbit model offering similar features.
Here's how it turned out.
Talkband B2
Fitbit Charge
Steps, calories, distance

J

J

Clock

J

J

Sleep tracking

J

J

Auto sleep detection

J

J

Silent wake alarm

J

J

Floors climbed

1

L

J

Active minutes

J

J

Caller ID

J

J

GPS Tracking

L

L

Heart rate monitor

L

L

Direct unlock

J

L

Phone finder

J

L

Remote control camera

J

L

Bluetooth headset

J

L
1 The Talkband B2 is supposed to have a feature for hiking but since I don't hike, the app shows no activity. I did try going up two floors via the stairs but it did not record the activity.
Operation
There are three ways to interact with the B2.
gesture
touch
physical button
To conserve battery, the display is off all the time unless activated by two gestures, i.e., raising the hand, or rotating the wrist. If I'd like to know the time, I simply raise my hand (gesture) to near eye level to wake up the display. Alternatively, I can press the single button on the side.
There are five pages on the display, these are:
time (home)
steps
calories
sleep monitor
activity
To switch between them, I can rotate my wrist (gesture) or swipe up or down on the display (touch).
The home screen has a total of eight styles, and my favorite is the analog clock with date. To change the home screen style, touch and hold the screen and when a rectangular border appears, swipe up or down to pick a style.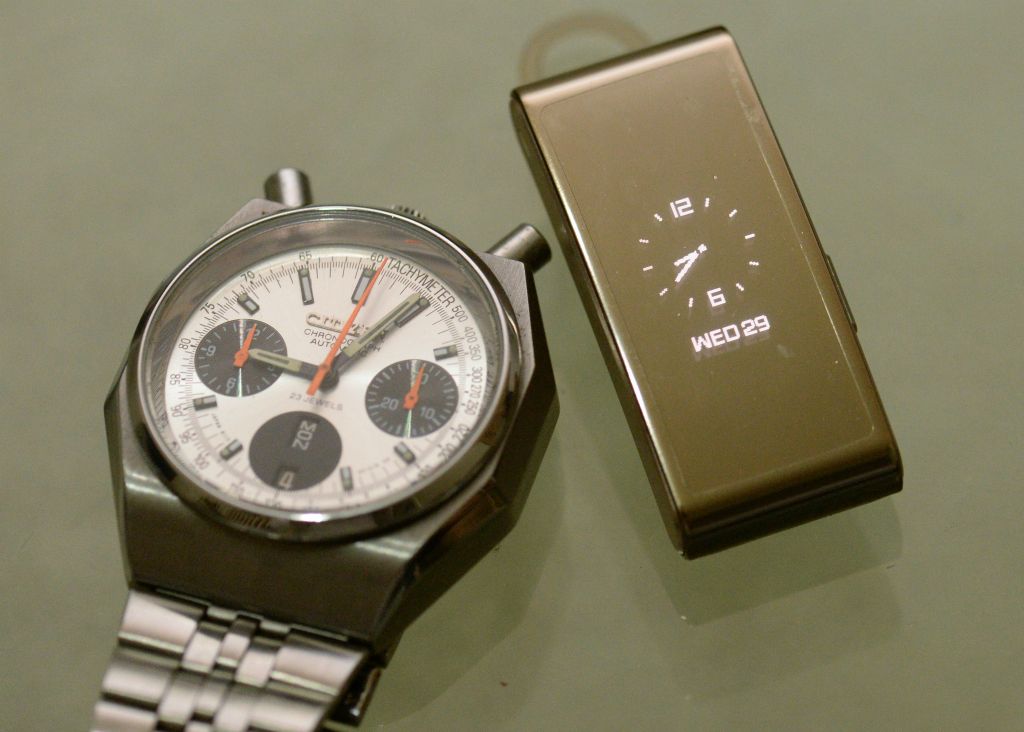 The B2 supports two Bluetooth connections which is perfect for connecting to my Honor 6 and iPhone 5S. I can pick any one of them and start using it with the Talkband B2.
One useful feature is the Phone Finder, which allows me to trigger the phone to ring from the B2. As long as the phone is running the Huawei Wear app and in range, it will ring. The iPhone 5S emits a more discreet ring while the Honor 6 running EMUI 3.0 rings with a recording saying "I'm here, I'm here."
Finally, should the need arise that I need to trigger the shutter of my Honor 6 remotely, I can do so via the B2. Any Huawei phone running on EMUI 2.3 and up is fully supported.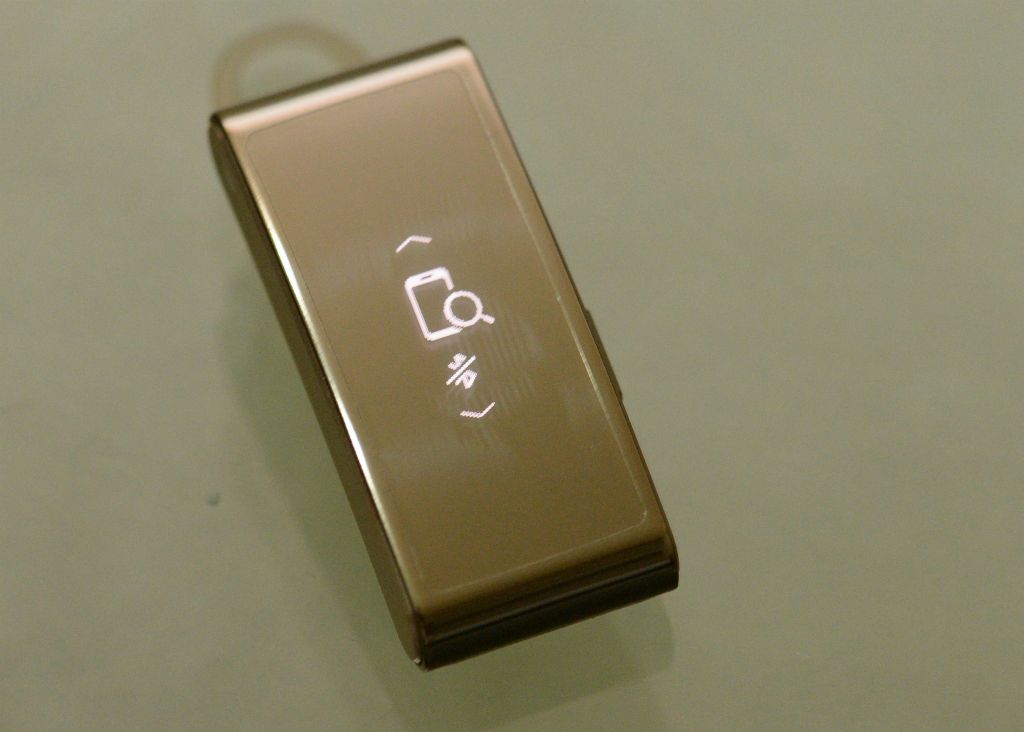 Performance
Comparing the B2 (left front pocket) with the Lumia 636 (right front pocket), the counted steps show a difference. Which one is more accurate? I didn't bother to count my steps.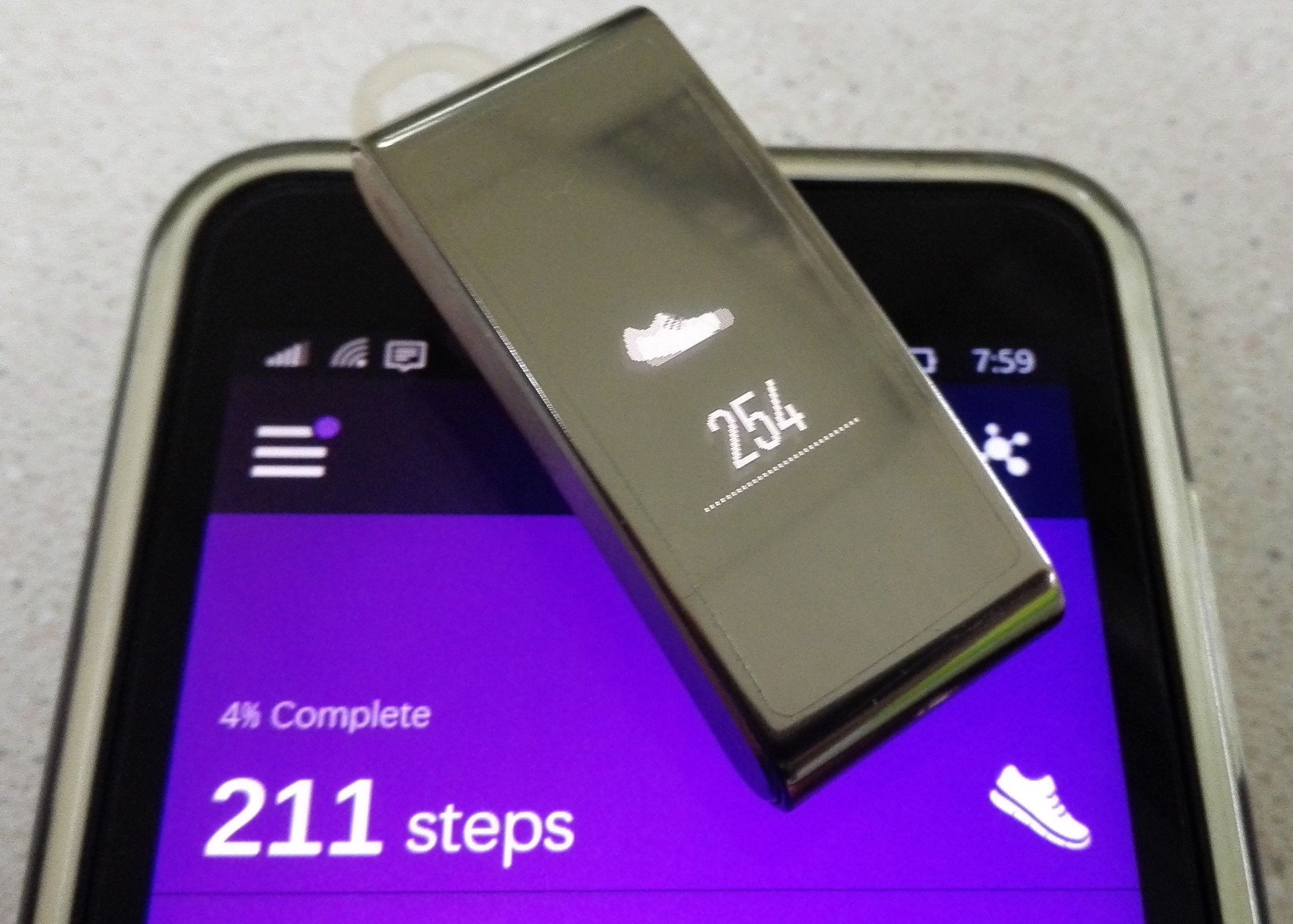 The Bluetooth headset is quite loud in office environment that I have to set the volume two clicks lower as I wait for the other party to pick up the phone. On conversation, the clarity is good and on noisy areas, conversation is still possible.
I really like how Huawei made the display in a way that is so integrated with the body and discreet that makes the information sort of float when activated. However, there is a big disadvantage to this approach- it is unreadable in sunlight. Otherwise, it is excellent.
As far as the battery life is concerned, the B2 lasted 6 1/2 days before the notification of low battery (10%) alerted me, on a single charge with mixed use as tracker and headset. Synchronization with my phone is made daily via Bluetooth.
App
The Huawei Wear app is available from both the Apple App Store and Google Play (no love from Huawei, Windows phone users). It provides basic information for the daily activity and monthly activity classified into Fitness and Sleep.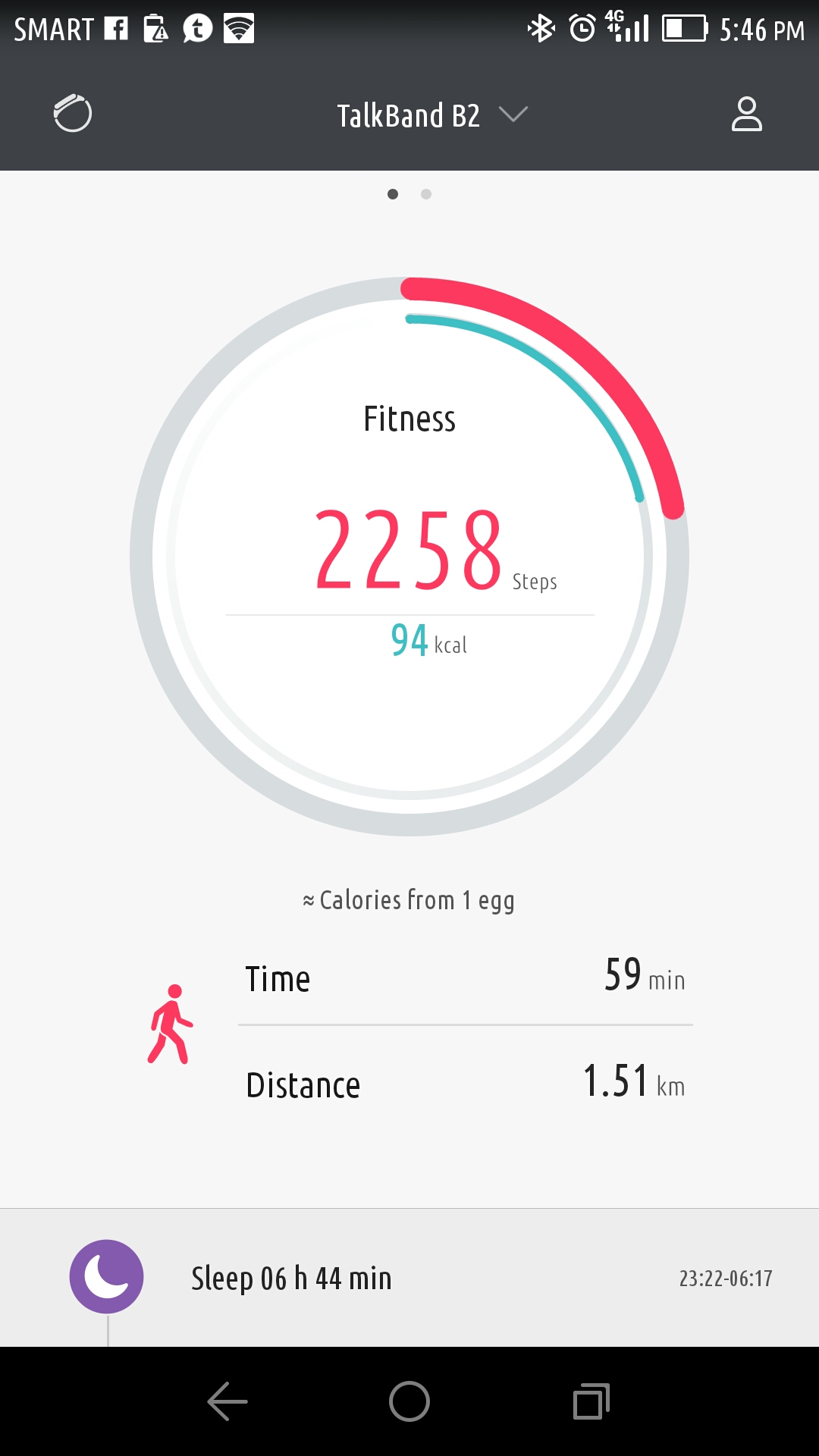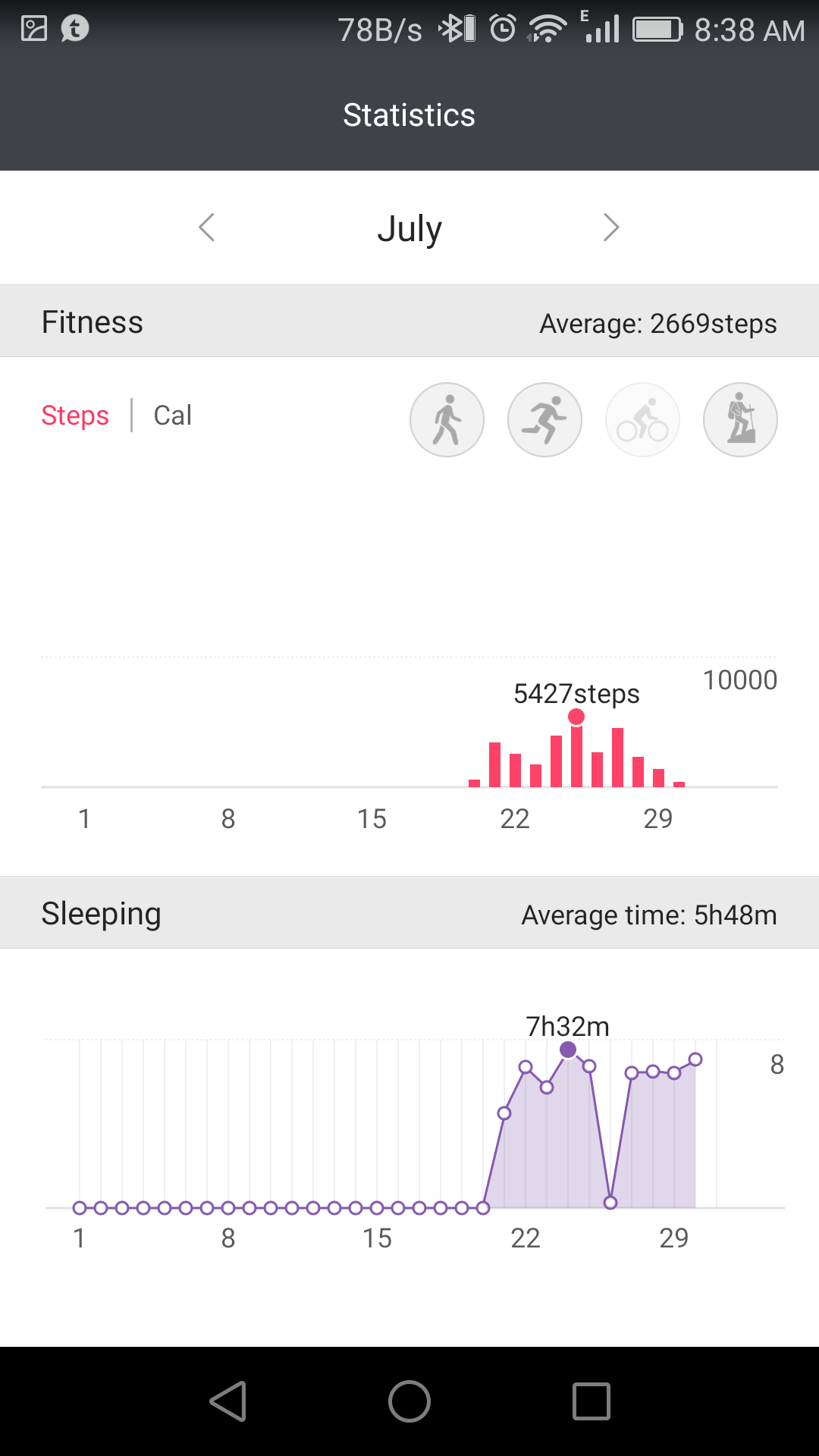 The app also allows me to set the Activity reminder, that alerts me that I'm sitting for too long. A Smart alarm (reminds me when I fall asleep or need to wake up) and up to five Event alarms can also be set. the Bluetooth disconnection reminder is useful as an anti-theft reminder.
User information such as name, gender, height, weight, and birthday can be saved, and fitness goal (number of steps) set. There is also sharing capability with UP by Jawbone which I have not tested since I have no interest in it.
Finally, Huawei Wear allows me to update the firmware of the Talkband B2. I have the latest firmware (as of this writing) which is 21.10.05.01.00 as confirmed by the app.
Wearability
This is a wearable, so comfort is a big thing to me and so far, the Talkband B2 delivers. It is light and comfortable to wear on the wrist. The adjustable strap fits just right and I use it daily removing it only when I take a bath. And oh, I wash dishes with the Talkband on and being IP57 certified helps. I just wipe it clean when I see sprinkle of water on it.
As a Bluetooth headset, the silicone tip (3 pieces are provided) is comfortable in my ears with good "grip" and I don't have to worry about it being dislodged.
One weekend, I was wearing it from 1:00pm to 6:30pm while covering the Shakey's V-League volleyball matches at the San Juan Arena and I never felt discomfort and mostly forget it is on my ear unless I hear notifications or incoming call.
Price
The price is P7,990 for the gold/leather strap, P6,990 for the black or white/plastic strap. The Fitbit Charge is US$129.99.
Is it worth it? With all the features it offers, together with quality of the build, I think it is.
The problem is image. Are people willing to pay the price for a tracker made by a company that is Huawei?
Gallery