Sansa Fuze Review
My quest for a personal media player finally came to an end when I found the Sansa Fuze from SanDisk.
Packaging
It came standard with the player it self, USB cable, headphones, velvet case, a quick start guide and a few marketing prints.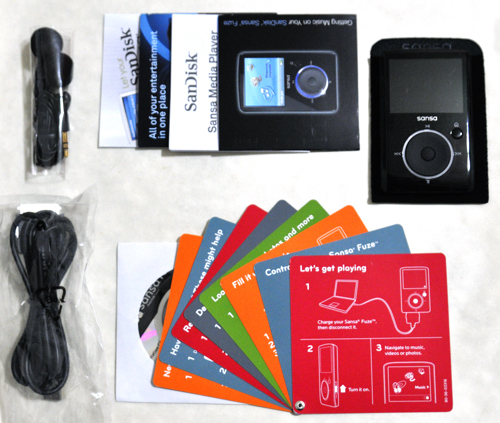 Listening impressions
Before I begin, I'd like to mention that this is Version 2 of the Fuze. Currently using firmware 2.01.17P which is the latest version 2.x firmware available from Sansa. I will not cover the hardware, software aspects of the Fuze anymore as they're all over the internet. I also made a video of the User Interface, should anyone be interested.
I was able to listen to the Fuze and it's accompanying earphones briefly. I didn't like it as it sounds tinny, too-digital, and lacks life.
At this point, version of the firmware is 2.01.09. Having said that, it lacks the drive to satisfy me when driving my AKG-240s (91dB, 55 ohms), so I have to drive the 240s thru either the FiiO E3 or E5. Using that combination, I don't think I am hearing the Fuze in its purity.
Later in the evening, I was able to upgrade to firmware 2.01.17P and while there were some added features, i.e., Sleep mode, it was a bump in loudness that I appreciated. The upgrade went without a hitch and was damn easy to screw up.
I ripped some of my CDs to MP3 320k, which includes Roxette, Skid Row, Cinderella, Grand Funk Railroad, .38 Special
Fuze -> AKG-240s
While not being able to drive the 240s into deafening levels, it's loud enough to be satisfying. I had the EQ set to Normal as I found the other presets to be very unlikeable.
Ok, don't accuse me of driving the 240s without an amp I just want hear how it will sound.
Firstly, I like the 240s for its midrange characteristic. Driven by my WE417 headphone amp, I believe they sound very well. With te Fuze driving it, it does retain the midrange character, with enough bass and top end shimmer. The Fuze won't cause the 240s drivers to really pump hard even with rock music. It's good, but not something that would make me say Wow!
Headstage is decent, couple with very good separation. Despite the lack of power, it did not sound muddied and I can still hear enough bass articulation and details. But surely, I long for more dynamics and only a dedicated amp can provide that.
Fuze -> Koss KSC-75
Firstly, since I changed the foam pads of my KSC-75 (101dB, 60 ohms), it seems to sound lighter (less bass) and there's nothing much I can do about it as I failed to order replacement pads when I ordered the Fuze.
Having said that, the Fuze can drive the KSC-75 to a satisfying level, and depending on the ripped material, could be loud. In Normal EQ, the over-all sound is satisfying.
The midrange sounds digital but not annoying. The highs have the tendency to be annoying at times, specially with poor source encoding. The bass is decent and snappy, never muddied, but lacks depth. On the Roxette tracks (It must have been love, Listen to your heart, etc.) I long for the depth on the lower octave.
Overall, the sound quality is good enough for me, until...
I played with the Custom EQ...
With the Custom EQ set to my preferences for the KSC-75, I can now mutter Wow! I was able to bring in bass depth, without muddying it and impacting the mids. I was able to make the KSC-75 sound warmer and less digital. This EQ is very good! Listening to Cinderella and Skid Row, unamplified, can bring me to a head-banging experience.
Now I wish Sansa would dump all the presets and give us 5 custom presets in the next firmware update. I'll post this at the Sansa forum so they could consider it