Custom Search
My analog journeys
The Clearaudio Champion
I finally decided to get this table for its reputation to be a well engineered product. From the inverted bearing, to the acrylic platter, and the motor - it spells quality.
But fear, uncertainty, and doubt...
Was what I had with me when I got the table home. I have no idea if I will have synergy with the rest of the parts that will go into this. I have not seen any who has mounted an Eminent Technology arm into this table. Aalthough I have heard this table with my own Clearaudio Sigma cartridge at a fellow pinoydiophile's place, it is not a guarantee that I can achieve the same or better performance.
After unpacking the product, I scanned the manual pages for things I should not do, just in case. The manual was clearly written with pictures that will be very valuable during assembly. But honestly, I never consulted it again after the initial scan.
Assembly was enjoyable and straightforward. I needed a lot of space so I did the assembly in the living room, so I can have lots of space to move around. after I got the feet on, I can now stare at the first turntable that I bought brand new in my entire life. Next to go was the bearing assembly, that looks to me as one masterpiece as far as tolerance and quality is concerned. so in it goes and after securing it, I got the platter in and did a medium push to turn it. then I tried to figure out how I can mount the ET arm. it took me a while to figure out how and what to do with it. all this while, I never realized that the platter was still spinning! at least 10 minutes has passed and this thing still keeps on going. I was pretty impressed, but if it will not translate to musicality I will be depressed.
So finally, I figured a quick but reasonable way to mount the arm. right now i'm using wood (as seen in the picture) but will later change it to 6mm acrylic. I just want to hear if this thing can sing.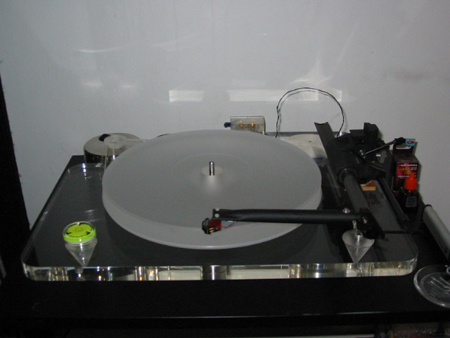 I finally got it levelled, hooked it up to my system and played some records. A sigh of relief and satisfaction is what I have now. It does not sound any bit bad as described by some posts in the asylum. In fact, plays music!
After about and hour and a half of listening, I can summarize the characteristics of the turntable - it has speed, clarity, detail (on both ends of the spectrum), and midrange magic that I was hoping for. It will go head-to-head with the PRAT of Hyperion's Nottingham SpaceDeck, which is the goal I was going after. it has the "fun" factor in it - lively with dynamics and slam.
Fitting the Eminent Technology 2.5 tonearm
I had a small "diving board" fabricated to extend the mounting according to the measurements found on the ET documentation.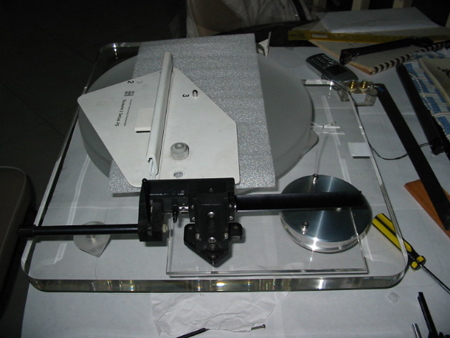 I used the supplied mounting jig to precisely align the ET tonearm base.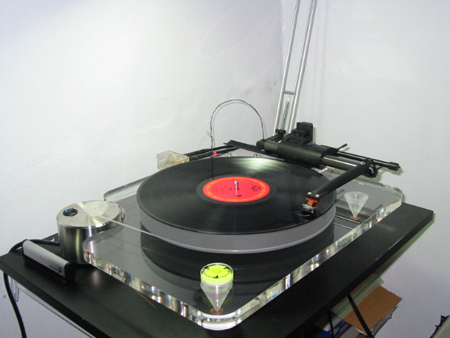 This is how it looks like with the fabricated arm board.
Next> The Clearaudio Tangent tonearm > Upgrade bugs