Huawei UltimoPower ANC earphone (AM180)
January 16, 2015
I have yet to own a noise-cancelling monitor so when I was asked if I'd like to try this active noice-cancelling in-ear monitors from Huawei, I got excited.
Foreword
This is a loaner unit and as such there is no packaging or other accessories. It also seems to have gone into battle and that shows up in the close-up photos. I didn't clean it during photography.
Design
The design of the AM180 body is different from that of my other in-ear monitors. According to Huawei, the shape of the body enclosing the 13 mm driver is patterned after an African drum. Whether that translates to better sonic quality, I'll soon find out.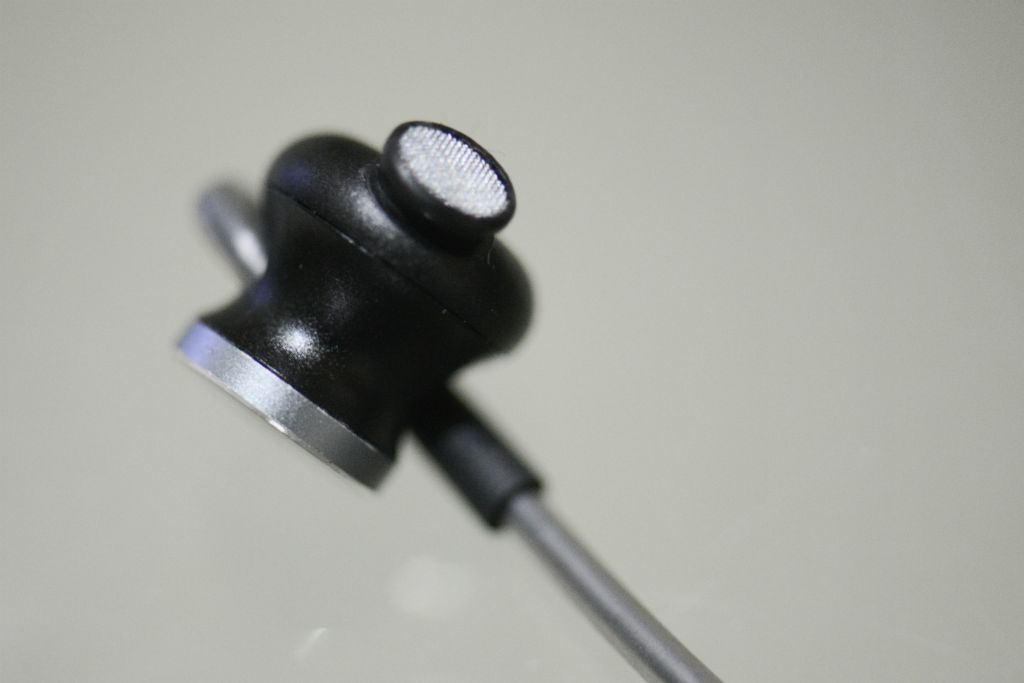 The housing of the active noise-cancellation circuitry is thin and lightweight. It also has a clip with rubber grip should one wants it clipped on to a shirt.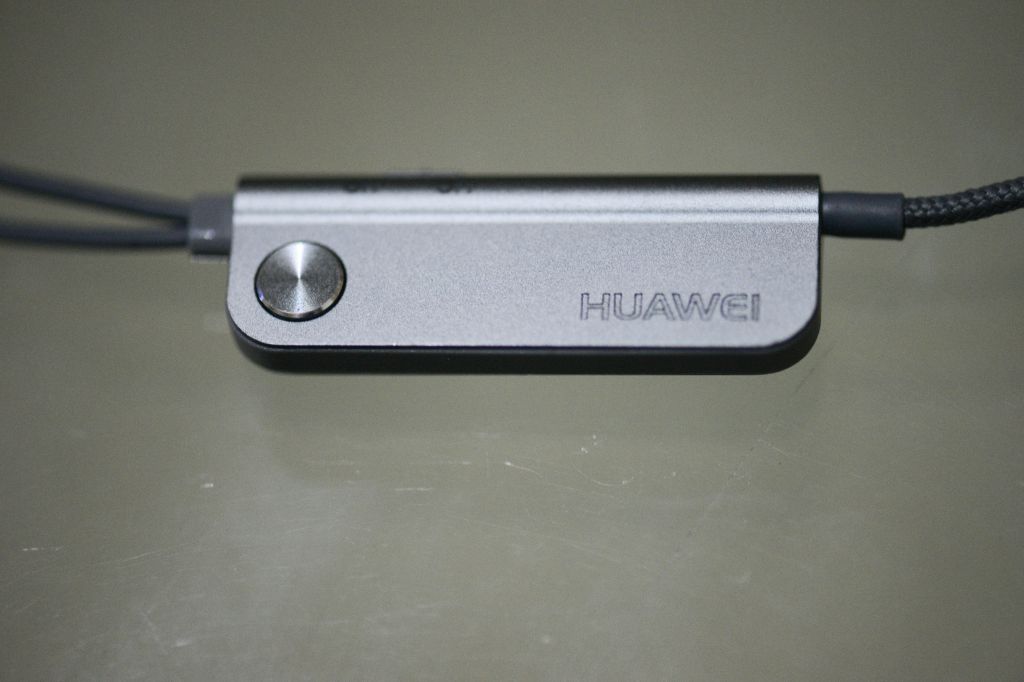 Workmanship
One thing that strikes me is the quality of build Huawei put into this product. The drivers are encased in what seems to be high-quality polycarbonate with a metal surface that combines for an elegant look.
The long side of the cable is covered with Kevlar which is a material in use for different audio equipment including speakers. The wires used are oxygen-free copper (OFC) which is also a standard for high quality cables used in audio equipment. The cable length is plentiful for me to put the player into my pocket, but 7-footer dudes may find it just enough.
The industry-standard 3.5 mm headset jack is coated with a layer of gold to provide better contact. The jack is straight type, though I would have preferred the L-type.
Features
Active noise cancellation reduces external noise and Huawei claims from 15-30 dB low-frequency noise cancellation between the targetted 50-500 Hz. This range will be perfect when you travel by air.
When the noise-cancellation is turned on, an LED indicator lights up in green.
The single-button controller use the familiar single click for pause, double click for next track, and triple click for previous track.
A built-in microphone allows use of the monitors for calls.
Another unique feature is the adjustable wire support that help to better fit the auricle.
My Westone UM1 comes with silicone or foam-based tips, but the AM180 only has silicone-based which is just as comfortable.
An active noice-cancellation unit requires power and is the reason why other brands such as the Bose QC20i utilize batteries and charging unit. The AM180 is unique in a way where in charging power is taken from compatible phones, such as the Ascend Mate 7.
I don't know how many hours were consumed already when the unit was handed over to me, but when the unit ran out of battery, it was on its 3rd day of service. Due to the holidays, I have using it at least 6 hours a day.
While I learned that there is a special charging cable, it didn't come with the device for review.
Sensitivity and efficiency
I don't have figures from the manufacturer about the sensitivity of the AM180 but it can be easily driven by the Honor 6, iPhone 5S, HTC 8S and heck, even the Xperia V.
Gallery
Sonic quality
I immediately noticed the performance it offers on bass-heavy materials, so I went ahead and queued the Audio album from Blue Man Group. What's unique about this group is that they make use of unconventional percussion instruments to make beautiful music. Surprisingly, even though the AM180 produces deep bass, the articulation is well-defined and texture remain impressive. This is an area where the Westone UM1 is weak. My Harman Kardon SOHO can produce deep bass with larger drivers and different form being over-the-ear. So yes, you'll get depth and slam but not in an over-powering way that it brings down the mids and highs.
I have a tonal preference that I look for in any audio equipment and the AM180 brings that to the table. These monitors sounds warm and full-bodied and while offering top-end extension beyond the UM1, it never sounded tinny and clinical. I am certainly enjoying the tracks from Cowboy Junkies' Trinity Sessions. The vocal sibilance is well controlled and definitely pleasant.
Listening to Rainy Days & Mondays track from Keiko Lee's album This is Keiko Lee, is soothing and envelopes me with her vocals.
I like bite and grunt specially when playing rock music such as Cornerstones: 1967-1980 by Jimi Hendrix. The AM180 didn't disappoint, although I've heard better, more raw sounding monitors.
It may have a different frequency characteristics such that the cymbals in Dream Theater's album Innocence Faded are more prominent on the UM1 compared to the AM180.
Attack and decay are characteristics which I believe influences the flow of music wherein lack of attack make the music boring while too much decay seems to break the pace. One of my favorite album for this test is Freeway Philharmonic's album Sonic Detour. Again, the AM180 didn't disappoint as I find myself into the groove of the music.
Is it that African drum-shaped body resposible? Could be. I do hope that Huawei was referring to the Djembe during the design of this product.
Noise-cancellation
It works well. There are times that I munch on food while listening to music and my chewing and food cracking easily gets in the way of my musical enjoyment. The AM180 did a pretty fine job in this area as I was listening to it while having breakfast and I noticed none of those noises impeding the music.
I don't eat everytime I listen, so I am also pleased to find out there is appreciable reduction in propeller noise as the helicopter circles around my area while the Pope is here.
The noise cancellation is not designed to cover high frequency noise such that when my iPhone 5S sounded its high pitched alarm, I heard it.
Finally, unlike other noise-cancelling products I've heard before, there is absolutely no hiss with this feature is turned on.
Comfort
I am not a masochist to enjoy music in pain. That is what I experienced with the Pioneer SE-EX9, which while it sounded well, it becomes very discomforting in less than an hour of use. The AM180's body design and chamber led to a very comfortable experience that allowed me to enjoy the music for prolonged period of time without any hint of discomfort. Of course, the proper tip is essential for an in-ear monitor and what came with the review unit is perfect for me.
Price
I don't know. I was actually asked how much I am willing to pay for this, and let's look at the competition.
Bose QC20/QC20i - P18,000 (Eleksis)
AKG K391 NC - P9,000 (approx)
Sony MDR-NC100D/B - P6,399 (Sony Philippines)
The AM180 doesn't have the big battery (some as big as single AAA battery) that results in ugly dongle for the noise cancellation unit, at the same time worry about "am I about to charge yet?"
The novel idea of charging the ANC electronics via phone is really a clear advantage.
The problem is image. Are people willing to pay, say P4,999 for the Huawei AM180? I would.