Review: Urbanears Medis
November 1, 2013
Excellent design with unique distortion
I purchased the Medis as a replacement to the problematic Pioneer SE-EX9. I was hoping it would give me aural pleasure, not.
The Pioneer SE-EX9 left driver is distorted on some materials specially with low frequency output. I first started to notice it when I was watching The Internship where from time to time I'll get a nasty distortion that breaks up the sound. This led me to further investigate by using it on my better setup using the NAIM Headline 2 headphone amplifier. I used my Clearaudio turntable and started playing vinyl. On Scorpion's Still Loving You and Big City Nights tracks, the distortion was evident.
Pioneer's local representative, Zamony Ventures Corporation, is unpleasant to deal with. I called them up and I was passed on to different people before I finally got to talk to one who is "responsible for AstroVision" and advised me to just bring it to the store of purchase. That is the kind of "support" they offer.
I went to AstroVision and Eunice, the new promodiser of Pioneer was hesitant to accept the return. After a lenghty explanation, she finally did and I was told "tatawagan na lang namin kayo."
On October 5, I got a message from Eunice that the replacement unit was ready for pickup. I was only able to pick it up days later, and the initial impression was that it came in a crappier box. Does that explain the 50% discount?
I was not able to test it immediately as I'm still amused by my experience with the Urbanears Tanto. When I finally got to test the replacement SE-EX9, I was furious to find it has the same problem. It seems that Pioneer did not replace it.
I was so pissed when I got back to AstroVision and I demanded another replacement, but I don't want to have that SE-EX9 again. In the end, I decided to get another Urbanears based on my experience with the Tanto. I settled for the Medis, due to its unique in-ear design. The Medis is more expensive than the discounted SE-EX9 and I willingly added money.
During the selection, I was talking to the Urbanears promodiser and I was getting commitment that should the product has a problem, or develops a problem, I will get a no questions asked replacement. She said that as long as the color I want is on stock, they will replace it in-store or get stock from the warehouse which is not immediate replacement. I said "I don't care about the color, only the replacement" and I started auditioning a Medis.
First impressions
I picked up a Lilac colored Medis and I found that while it should have better sensitivity than the Tanto (115dB vs. 112dB) the output is too low even if I crank up the volume of my HTC 8S.
I asked for another unit, this time in Mustard color and true enough, the first unit is flawed. I now have serious doubts about the quality control of Zound Industries, the makers of Urbanears. This is a more expensive unit than the Tanto and I already had a lemon.
I had to go to the toilet a few meters away from AstroVision when testing because it is very noisy inside the store. If one will be auditioning in-store, it will be a mistake.
The Mustard Medis sounds ok, it was decent, and I said perhaps it will grow on me like the Tanto. I finally took it home.
Lasting impression
The Medis has an inherent flaw. On many materials, specially complex ones, it distorts on both channels consistenly in a way that the vocals and some instruments have a "gargling" or "underwater sound" effect. Very evident on Rihanna's Love The Way You Lie track I have on my HTC 8S.
I then took the Medis into my reference system, the NAIM Headline 2 headphone amplifier and Clearaudio turntable. When playing Scorpion's Still Loving You track, the distortion is very evident. Yeah, it sucks.
When used with my iPod Classic 120GB playing BBC Radio 1's Live Lounge tracks, the distortion exhibits prominently. I have to get it replaced.
I returned the Medis after much arguments with the Urbanears promodiser who even said that they were informed by Pioneer that the SE-EX9 unit I returned does not have any problem according to Pioneer's "audiophile" technician. Audiophile my ass! This got me into a really bad mood and started demanding the Medis replacement. Unfortunately, after going through two units in stock, they also exhibit the same problem. Just to prove the point, I got a Bose unit (I can't remember the model) and played the same material, and it wasn't distorted as confirmed by the Bose promodiser.
After continued arguments, AstroVision and I settled for a full refund.
Before going home, I went to the Bose shop nearby and tested the noise-cancelling IEM, played the same track and it did without the distortion.
If it wasn't for...
that nasty distortion, the Medis is very likeable.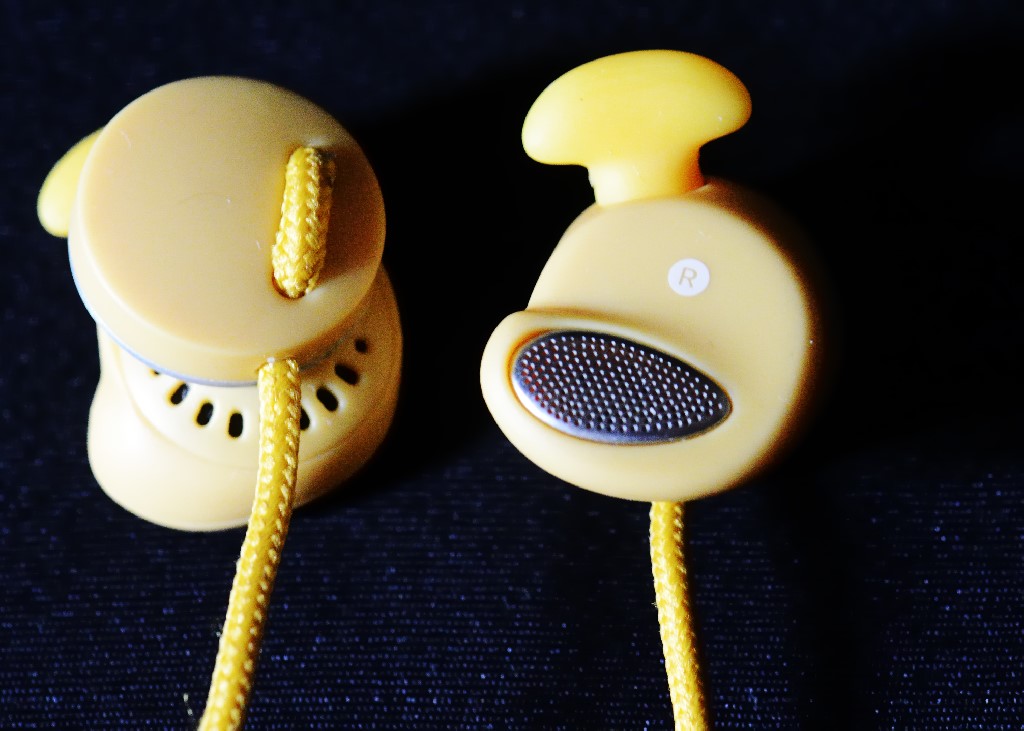 Comfort
The Medis has a unique design for an IEM and I like it so much. There are no buds stuffed in my ear canal, there's no pads resting on my ears. It's like a hybrid, and I have to give credit to Urbanears for the design which they call EarClick. Excellent.
With the proper size size "ear pads" installed, the device sits comfortably and firmly in my ears. There are four interchangeable ear pads provided.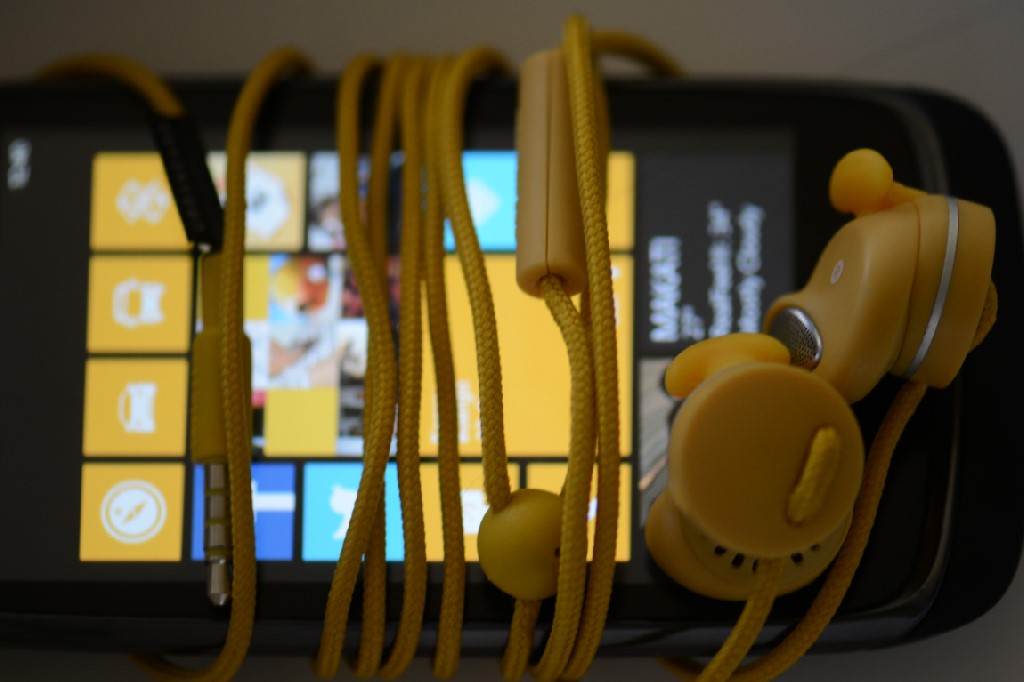 Microphonics
Absolutely nothing in normal use, unless I rattle the cable against my chest which would result in mechanical noise instead. The Medis features a fabric cord.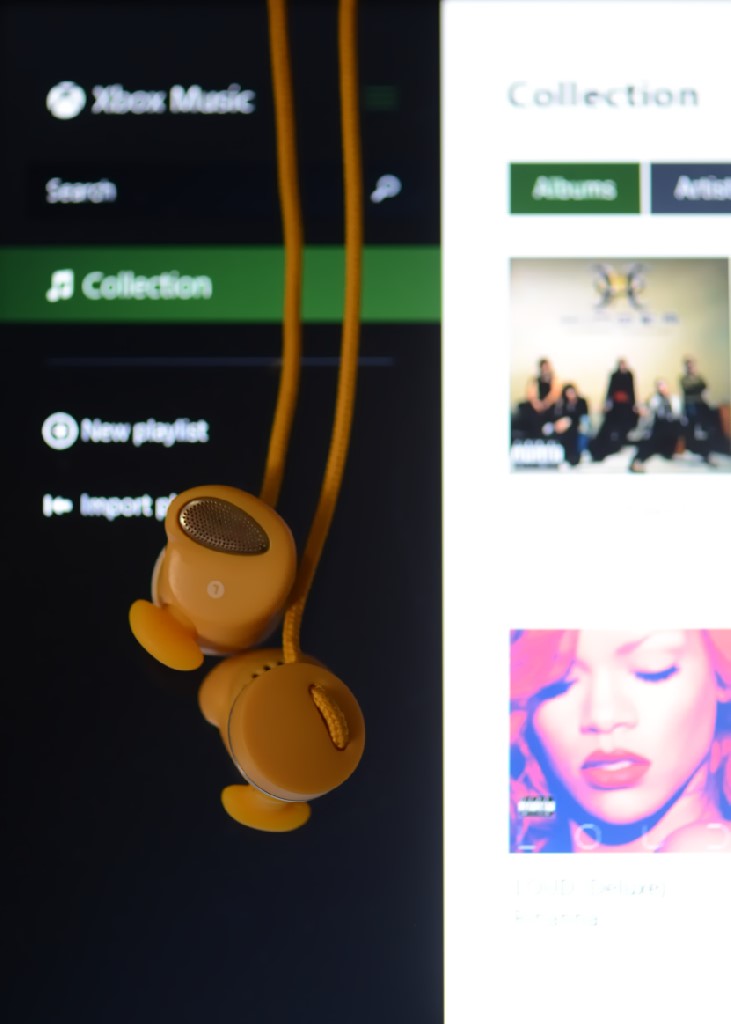 Efficiency
The Medis offers 3dB more sensitivity than the Tanto. That advantage somewhat does not manifest in my use.
The technical specificaton lists the Tanto having a sensitivity of 115dB with a nominal impedance of 32Ω.
Isolation and Leakage
Surprisingly, sound leak from the Medis is minimal which is good for office use. Isolation from external noise is also minimal, as I still hear ambient noise.
The Sound
I did not have the time to get to know the Medis well, due to the annoying distortion on sound passages. The Pioneer SE-EX9 sounds better, when not distorted.
Its published frequency response is from 20Hz - 20kHz from 15.4mm "hand-made" drivers, but it doesn't give me head-pounding bass nor sparkling highs. It does have a warm mid-range tone.
It is very difficult to further evaluate the sound quality of the product.
Headstage and Imaging
N/A
Build quality
Pretty bad. Not aesthetically, but those drivers are just bad.
Convenience features
The Medis is designed to work with devices that use the standard signalling to pause, go to next track, and go to previous track with just a single button. A single click will pause the player, a double click will invoke the next track function, and triple click invokes previous track function. To me these convenience features are very useful as I don't have to reach my DAP or phone anymore.
The functions works for my iPod Nano, iPod Classic, Xperia V, Lumia 610, and HTC 8S.
In addition, it has a built-in microphone which is very useful for phone calls or Skype calls.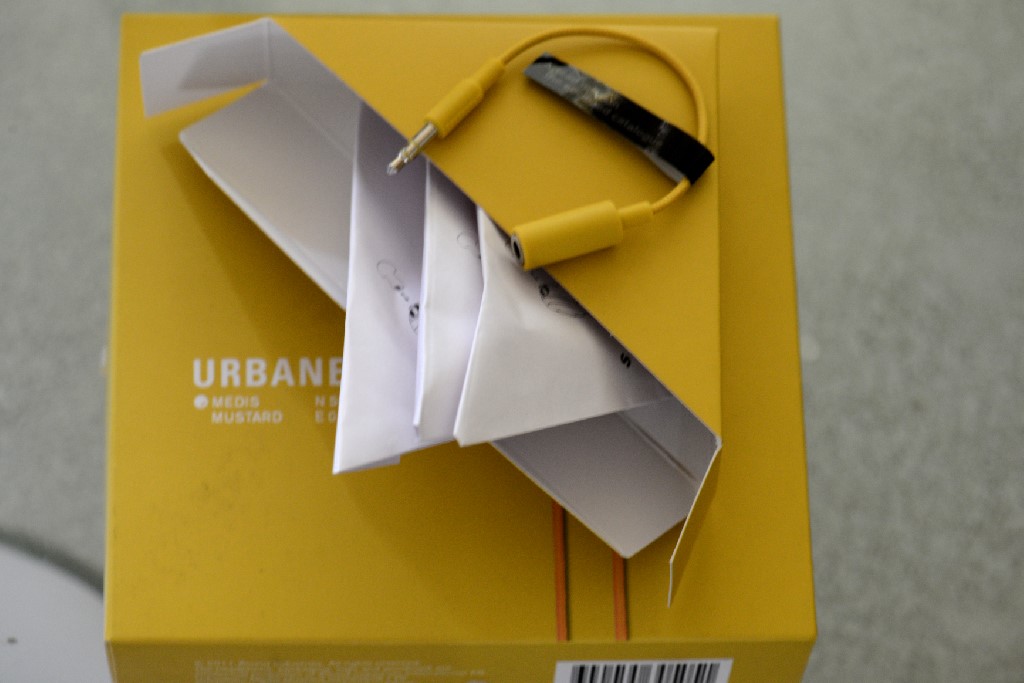 Packaging
Packaging of Urbanears is well-thought out, and very pleasing. Inside, I found a 2010 catalog and a Nokia adapter.
Equipment
iPod Classic 120GB

iPod Nano, 4th generation

Sansa Fuze, 2nd version

Clearaudio turntable w/ Tangent linear-tracking tonearm + Transfiguration Axia cartridge -> Clearaudio Symmetry phonostage -> NAIM Headline 2 headphone amplifier
Photo Gallery